120Hz ProMotion Display Finally Coming to the iPhone 13 [Updated]
Though the iPhone 12 was long-rumored to come with a 120Hz ProMotion display, the final device did not sport the technology. Now, rumors are indicating that 2021's iPhone 13 lineup may finally introduce the feature, in what could be the next major advancement in display technology on the ‌iPhone‌.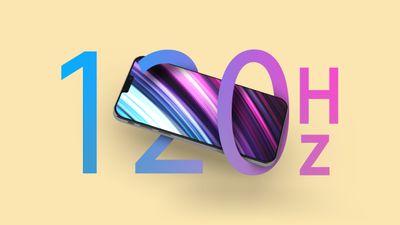 There were multiple rumors ahead of the launch of the ‌iPhone‌ 12 lineup suggesting the high-end ‌iPhone‌ 12 Pro models could feature 120Hz ProMotion displays, but later in the rumor cycle, it became clear that this feature was delayed until 2021 due to battery life concerns.
To implement a 120Hz refresh rate on the ‌iPhone‌, Apple needs to adopt LTPO display technology, which is expected to occur next year. Well-connected display analyst Ross Young expects the "most important development" on the ‌iPhone 13‌ Pro models to be the adoption of 120Hz-capable ProMotion displays with variable refresh rates, facilitated by the adoption of LTPO display technology.
Other reports have also indicated that the low-power LPTO backplane technology will be coming to at least two ‌iPhone‌ models in 2021, presumably being the 6.1-inch ‌iPhone 13‌ Pro and 6.7-inch ‌iPhone 13‌ Pro Max. These components are expected to be manufactured by LG Display.


Using LTPO technology would allow Apple to deliver a much more power-efficient backplane, which is responsible for turning individual pixels on and off on the display. The technology could pave the way for longer battery life or always-on display elements. For example, LTPO allows for a variable refresh as low as 1Hz when the device is inactive in order to optimize battery life. Most strikingly, the technology would allow Apple to finally deliver a ProMotion 120Hz refresh rate, which has only thus far appeared on the iPad Pro.
Apple Watch Series 5 and Series 6 models already use LTPO displays, which enables them to have the same up-to-18-hour battery life as earlier Apple Watch models despite having an always-on display. The Samsung Galaxy Note 20 Ultra and Z Fold 2 were the first smartphones with high refresh rate OLED displays that support a changing refresh rate.
Although Apple's ‌iPhone‌ 12 lineup did not launch in September as expected due to production delays, the 2021 ‌iPhone‌ lineup will likely be unveiled in the fall of 2021, with the company likely aiming to return to its traditional September launch timeline.
Update: Korean site The Elec reports that two ‌iPhone 13‌ models, presumed to be the ‌iPhone 13‌ Pro and ‌iPhone 13‌ Pro Max, will use "more technologically sophisticated" OLED displays with low power LTPO technology.
The report claims that Samsung and LG will remain Apple's primary suppliers of OLED displays, which are expected to be used across the entire ‌iPhone 13‌ lineup, with Chinese manufacturer BOE also aiming to win some orders.
The report is yet another indication that the ‌iPhone 13‌ Pro and 13 Pro Max will feature displays capable of a 120Hz refresh rate for ProMotion, with the potential capability for always-on features and reduced power consumption for better battery life.