iPhone 13 May Revive Touch ID [Updated]
Although Apple has not included Touch ID on a flagship iPhone since the ‌iPhone‌ 7 in 2016, rumors are now indicating that the authentication technology could be making a return in next year's iPhone 13.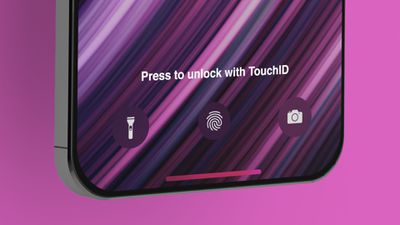 Reliable Apple analyst Ming-Chi Kuo has repeatedly said that Apple is developing an ‌iPhone‌ with ‌Touch ID‌ integrated into its power button for release in 2021. However, this is expected to be a lower-end model rather than a flagship device.
In September, Apple introduced the fourth-generation iPad Air with ‌Touch ID‌ integrated into its power button, which the company hailed as "an incredible feat of engineering." This appears to have paved the way for ‌Touch ID‌ to return on the ‌iPhone‌ without taking up space on the front of the device.
Moreover, Kuo believes Apple is working on an ‌iPhone‌ with both Face ID and an under-display fingerprint scanner for launch in 2021. This would likely be for Apple's high-end iPhones, such as the ‌iPhone 13‌ Pro and ‌iPhone 13‌ Pro Max.
Implementing both ‌Face ID‌ and ‌Touch ID‌ on an ‌iPhone‌ would allow for dual authentication. This would add security by demanding multiple means of authentication, but it is also possible that Apple could allow users to authenticate using either ‌Face ID‌ or ‌Touch ID‌, depending on which is faster. Two means of authentication could allow Apple to combat the shortfalls of both methods, such as wearing a mask with ‌Face ID‌ or gloves with ‌Touch ID‌.
Beyond ‌Touch ID‌, other notable rumored ‌iPhone 13‌ features include a 120Hz-capable ProMotion display, the A15 chip, and an upgraded ultra-wide camera.
Although Apple's iPhone 12 lineup did not launch in September as expected due to production delays, the ‌iPhone 13‌ lineup will likely be unveiled in the fall of 2021, with the company likely aiming to return to its traditional September launch timeline.
Update: If Apple does choose to integrate ‌Touch ID‌ in the ‌iPhone 13‌'s display, it appears that the display technology used in the 2021 ‌iPhone‌ will be changing considerably. Multiple reports have speculated that ‌iPhone 13‌ will also use a low-power LTPO backplane to achieve a higher 120Hz refresh rate for "ProMotion."
In addition to the ‌iPhone 13‌, ‌Ming-Chi Kuo‌ believes that a new iPhone SE with ‌Touch ID‌ could be released in 2021. Unlike the previous two ‌iPhone SE‌ models, which placed ‌Touch ID‌ on the Home Button, this model would offer ‌Touch ID‌ on the Power Button, much like the 2020 iPad Air. This would also allow for a "full-screen" design with reduced bezels.