iPhone 13 Likely to Drop Another Standard Feature [Updated]
Apple has been rumored to make an iPhone with no external ports for some time, in an effort to make a more singular and cohesive design. With the launch of MagSafe on the iPhone 12 and iPhone 12 Pro, it is now looking more likely than ever that at least some of next year's "iPhone 13" will drop the Lightning Connector and have no ports at all.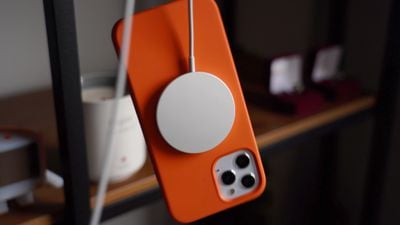 Instead of switching to USB-C, the 2021 iPhone is more likely to drop the port entirely. Reliable Apple analyst Ming-Chi Kuo said in 2019 that Apple would release a high-end iPhone in 2021 that offers a "completely wireless experience" with the removal of the Lightning port.
If Apple is to release only one iPhone 13 model with no ports, it seems likely that it would be the high-end "iPhone 13 Pro Max" model. Kuo suggested that dropping the port would create more differentiation between the high-end models.
Though the development of wireless technologies such as AirDrop, iCloud, and Qi wireless charging have made a wireless iPhone feasible, without doubt the biggest advancement has been MagSafe with the iPhone 12 and iPhone 12 Pro.
Although it was initially rumored earlier this year that the iPhone 13 would drop the Lightning port in favor of an iPad-like Smart Connector, it now seems more likely that MagSafe is the charging solution destined for the portless iPhone.
However, MagSafe does not allow for data transfer. To remove all ports on the iPhone, Apple will have to develop a reliable alternative means of transferring data for Apple CarPlay and diagnostics, so there is still a chance that the Smart Connector may come to the iPhone in some way for this purpose.
Update: Upon releasing its selection of leather cases for the iPhone 12 lineup, Apple has explicitly cautioned that the MagSafe Charger may damage cases. Amid concern that the MagSafe Charger may damage silicone cases, Apple has directly addressed the issue and included an image on the storefront of how the charger may leave a circular imprint on its leather case over time.
Considering that Apple has gone as far as to directly show how ‌MagSafe‌ accessories can permanently imprint its cases, it seems highly likely that the company expects many users to experience the issue. If Apple plans to completely replace the Lightning Connector with MagSafe in the future, iPhone customers may have to get used to this new kind of wear and tear.