Apple Reportedly Renews 'For All Mankind' and Other Apple TV+ Shows for Second Seasons
Deadline reports that Apple has already greenlighted a second season of Apple TV+ space drama "For All Mankind," along with additional seasons for several other shows set to debut on its upcoming streaming video service.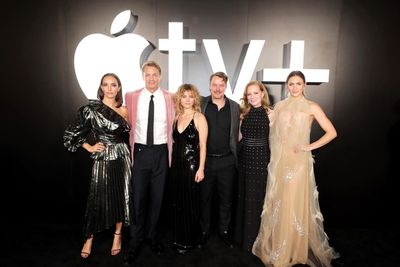 The cast of "For All Mankind" celebrated the show's premiere on Tuesday
Renewing the shows early is said to be part of a strategy by Apple to queue up original content and ensure there's a steady pipeline of programming by avoiding lengthy hiatuses between seasons.
Apart from "The Morning Show", which was picked up on a two-season deal, Apple previously hasn't officially confirmed second seasons for any of the shows it's promoting ahead of the launch of ‌Apple TV+‌ on November 1.
Shows also reportedly renewed or in the process of being renewed for a second season include futuristic thriller "See," starring Jason Momoa, period comedy "Dickinson," which stars Hailee Steinfeld as poet Emily Dickinson, immigrant anthology comedy "Little America," and young detective drama "Home Before Dark."
Apple premiered "For All Mankind" on Tuesday at the Regency Village Theater in Westwood, California, where show stars Joel Kinnaman, Michael Dorman, Sarah Jones, Shantel VanSanten, Wrenn Schmidt and Jodi Balfour were in attendance. The show imagines a world in which the global space race never ended and the space program remained the cultural centerpiece of America's hopes and dreams.
The first three episodes of "For All Mankind" will be available to watch on ‌Apple TV+‌ on the day it launches, while new episodes will continue to roll out weekly, every Friday. Apple has launched a press site showcasing information on a number of movies and series coming to ‌Apple TV‌+, which will be priced at $4.99 per month for up to six family members.
The service will be available on the ‌Apple TV‌ app on iPhone, iPad, ‌Apple TV‌, iPod touch, Mac and other platforms, including online via www.tv.apple.com. Customers who purchase any new ‌iPhone‌, ‌iPad‌, ‌Apple TV‌, Mac or iPod touch starting September 10, 2019, are eligible for one year of ‌Apple TV+‌ for free.