Apple today updated its website to announce that it will share its earnings results for the second fiscal quarter (first calendar quarter) of 2019 on Tuesday, April 30.
Apple's second quarter earnings results will give us a look at how well Apple's products are doing following the first fiscal quarter of 2019, which saw Apple unexpectedly lower its revenue guidance due to fewer than anticipated iPhone upgrades.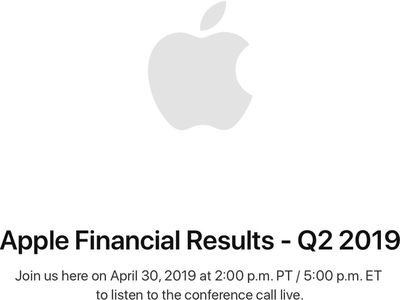 Apple has dropped prices on iPhones and other products in China and some other emerging markets, plus it has shifted towards focusing on trade-in deals and monthly payment plans that lower the cost of the newest iPhones.
Apple's guidance for the second fiscal quarter of 2019 included expected revenue of $55 to $59 billion and gross margin between 37 and 38 percent. Apple in Q2 2018 brought in $61.1B in revenue, so the company is expecting a year-over-year decline in Q2 2019 based on its provided guidance.
As announced back in November, this will be the second quarter where Apple will not provide specific unit sales data for ‌iPhone‌, iPad, and Mac.
Apple's quarterly earnings statement will be released at 1:30 p.m. Pacific/4:30 p.m. Eastern, with a conference call to discuss the report taking place at 2:00 p.m. Pacific/5:00 p.m. Eastern. MacRumors will provide coverage of both the earnings release and conference call on April 30.