Future HomePod Could Feature 3D Hand Gestures and Face ID
A recently published Apple patent application suggests that a future HomePod could feature support for 3D hand gestures, Face ID, and much more.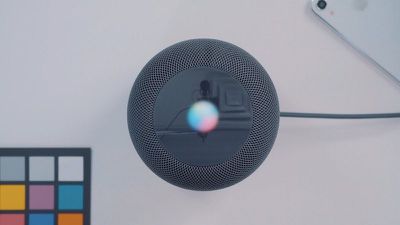 While the patent application does not refer to the ‌HomePod‌ by name, it describes a voice-controlled assistant device such as a "countertop speaker" with various sensors and cameras that "gather hand gestures and other three-dimensional gesture input." This could include waving, clapping, and so forth.
Interestingly, the ‌HomePod‌ could have LEDs woven into the fabric to provide visual feedback for the hand gestures. The LEDs could also be configured to display alphanumeric characters through the fabric that change depending on time of day.
3D hand gesture support on the ‌HomePod‌ could utilize technology Apple gained from its acquisition of PrimeSense in 2013. In 2016, for example, Apple filed a patent for hand gestures on the Mac such as push, up, and wave that could be used to perform basic app interactions like scrolling through a menu.
Gestures described herein include focus gestures and unlock gestures. A focus gesture enables the user to engage (i.e., take control of) an inactive non-tactile 3D user interface. An unlock gesture enables the user to engage a locked non-tactile 3D user interface, as pressing a specific sequence of keys unlocks a locked cellular phone. In some embodiments, the non-tactile 3D user interface conveys visual feedback to the user performing the focus and the unlock gestures.

Examples of unlock gestures include an "up" gesture (e.g., raising hand 30 a specified distance), a sequence of two sequential wave gestures, and a sequence of two sequential push gestures, as described in detail hereinbelow.
PrimeSense's technologies were initially used by Microsoft for its Kinect motion sensor for Xbox. Apple later incorporated some of the technologies into the TrueDepth system that powers ‌Face ID‌ on the iPhone X and newer.
As for ‌Face ID‌, the patent explains that the ‌HomePod‌ could identify users in the vicinity of the speaker using "facial recognition," as well as measure the distance of users to the speaker. This could allow for biometric authentication of Personal Requests, multiple user profiles, and more on a future ‌HomePod‌.
In late 2017, the president of Apple supplier Inventec said his company sees a trend towards both facial and image recognition technology being incorporated into smart speakers, without specifying which speakers in particular. This led Apple analyst Jeff Pu to predict the launch of a Face ID-enabled HomePod in 2019.
The exhaustive patent goes on to describe a variety of other potential features for a future ‌HomePod‌, such as ambient light sensing, displaying a sunshine icon if sunny weather is forecast, displaying the logo of a sports team that wins a game, heart rate sensing, and much more.
One quirky feature mentioned is an emoji-based avatar that would adapt to a user's mood or actions. If the user is sad, for example, the emoji may reflect sadness. Or, if a user asks the ‌HomePod‌ for information on purchasing a birthday gift, the speaker may display a happy emoji to present results.
The patent application was filed with the U.S. Patent and Trademark Office in July 2017, six months prior to the launch of the current ‌HomePod‌, but it was only published in late January due to a standard 18-month confidentiality period.
Apple files numerous patent applications every week, of course, and many of the inventions do not see the light of day. Patents are also very detailed, encompassing many possible ideas, even ones that Apple might not have any plans to advance. So, the exact implementation if any remains to be seen.