Future HomePod Models Could Include Face ID Technology
A new rumor out of Apple's supply chain over the weekend suggests future iterations of the HomePod could come with 3D-sensing cameras supporting Face ID, similar to the front-facing technology on the iPhone X. Specifically, Inventec Appliances president David Ho mentioned recently that the company sees a trend towards both facial and image recognition technology being incorporated into smart speakers, without specifying which speakers in particular (via Nikkei).
Ho made the comment following Inventec's latest earnings conference, and analysts listening predict that he was likely referring to "the next generation of Apple's HomePod." Inventec Appliances is currently the sole supplier of both Apple's AirPods and HomePod, but also makes Xiaomi smartphones, Fitbit devices, and Sonos speakers, among others. Given the company's ties to Apple, analyst Jeff Pu predicts Ho's comments could suggest a Face ID-enabled HomePod in 2019.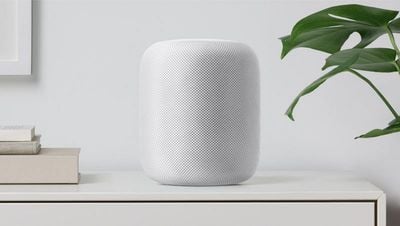 "We see trends that engineers are designing smart speakers that will not only come with voice recognition but also incorporate features such as facial and image recognition," President David Ho told reporters after the company's earnings conference.

Jeff Pu, an analyst at Yuanta Investment Consulting, said Apple could roll out HomePods with 3D-sensing cameras in 2019.
Ho said that facial recognition features "are set to make people's lives more convenient and to make the product easier to use." He further clarified his comments, however, citing hesitancy about whether smart speakers "with more AI features" would become popular.
HomePod is set to release in December, although Apple has yet to confirm a specific release date for the new device. The upcoming smart speaker was first revealed during WWDC in June, where Apple explained it would be a music-focused speaker with high quality sound, deep Siri integration, and spatial recognition for providing the best sound in any space. Even before it was officially announced, rumors of the device's production were connected to Inventec Appliances.
Over a year before its unveiling at WWDC 2017, Apple's "Siri Speaker" was rumored to include facial recognition of some kind as another leg up on competing Echo products from Amazon. At the time, sources with knowledge of Apple's project said the device would be "self aware" and able to bring up different user profiles as people walk into a room, "such as the music and lighting they like." The HomePod launching next month will lack any such features and instead be controlled mainly through voice-enabled user prompts with Siri.