Another 'iPhone 8' Design Schematic Shows Vertical Dual Camera and Touch ID on Back of Aluminum Casing
Yet another "iPhone 8" design schematic has surfaced today, this one courtesy of noted leaker Sonny Dickson on Twitter.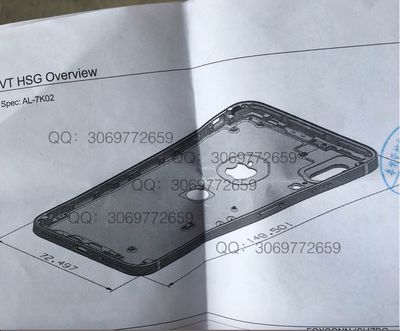 The render shows an iPhone with a vertically-positioned dual-lens camera and Touch ID located on the back of the smartphone, as seen previously. It's likely one of several designs that Apple is considering, as multiple reports have said the company has been testing multiple iPhone prototypes this year.
Bloomberg in particular said one of the iPhone prototypes that Apple is testing has a "simpler design" with an aluminum back, rather than a glass one, plus slightly larger dimensions, and that description is consistent with this render. But, as mentioned, this might not be the design that Apple selects.
Apple suppliers have so far struggled to reliably produce heavily curved glass in mass quantities, so the company is more likely to ship the version with more subdued curves, the person added. The company is also testing a simpler design that has an aluminum back, rather than a glass one, and slightly larger dimensions, one of the people said.
The prototype measures 149.5mm tall and 72.5mm wide, compared to the iPhone 7's 138.3mm length and 67.1mm width, so the "iPhone 8" would be slightly larger than a 4.7-inch iPhone as expected should Apple choose this design. The dimensions are consistent with a previous design schematic leaked last week.
While a vertical camera is a more likely possibility for what will be Apple's highest-end iPhone, it's less clear if Touch ID will be integrated under the display, on the rear, or elsewhere. Last week, Cowen and Company analyst Timothy Arcuri said Apple is facing yield issues with its under-display solution.
One possibility is that the circular cutout on the rear is actually for wireless charging, rather than Touch ID, in order to avoid interference from the aluminum casing. KGI Securities analyst Ming-Chi Kuo said all three iPhone models rumored to launch this year will feature wireless charging.
The sides of the iPhone include the usual cutouts for the mute switch, SIM card tray, Lightning connector, speaker grille, and what is likely a second faux speaker grille. In line with the iPhone 7, there is no 3.5mm headphone jack, so don't get your hopes up about a surprise return of the legacy connector.