Potential 'iPhone 8' Render Shows Vertical Camera and Rear Touch ID, But Likely One of Several Designs
A user on Weibo has shared an image of what appears to be a manufacturing-related design drawing of Apple's rumored 5.8-inch iPhone with an OLED display, which is tentatively named the iPhone 8 or iPhone X.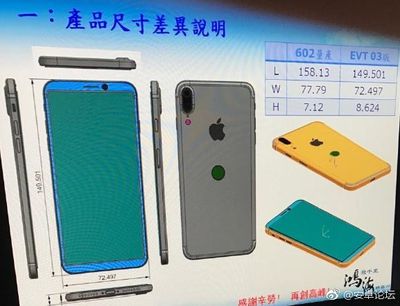 The drawing, which surfaced on /LEAKS earlier today, appears to be on a computer belonging to an Apple manufacturing partner such as Foxconn. It's unclear when the photo was taken, or if it's authentic, so treat this rumor with some caution until actual parts start to leak from the supply chain.
The drawing appears to be from the EVT, or Engineering Verification Testing, stage. In other words, this could be one of over ten iPhone prototypes that Apple has supposedly been testing this year, and the iPhone that ultimately enters mass production later this year might have an entirely different design.
The drawing shows an iPhone with a larger display that takes up nearly the entire front of the smartphone, as widely rumored. However, while many sources suggest the display will resemble the Galaxy S8 with only top and bottom bezels, the drawing shows very slim bezels along the left and right edges as well.
On the rear of the iPhone, the drawing shows a vertically aligned dual camera system, which has been rumored only once before by Japanese website Mac Otakara in December. Touch ID has also been relocated to the rear shell, in line with multiple reports claiming the iPhone 8 won't have a Home button on the front.
It has been more frequently rumored that Apple will integrate Touch ID underneath the iPhone 8's display glass, but Cowen and Company analyst Timothy Arcuri recently said that Apple is facing yield issues with an under-display solution. If it cannot resolve those issues, he said Touch ID on the rear is one possibility.
The drawing depicts an iPhone 8 measuring 149.5mm tall and 72.5mm wide, compared to the iPhone 7's 138.3mm length and 67.1mm width, so the iPhone 8 would be slightly larger than a 4.7-inch iPhone as expected. It's depth is 8.6mm, compared to the iPhone 7 at 7.1mm, possibly due to a rumored glass and stainless steel frame.
If accurate, the iPhone 8 would be approaching the thickness of an iPhone 4, which also had a glass and stainless steel design.
Using the Pythagorean theorem, we calculated that the iPhone 8 would have an overall footprint of about 6.5 inches on the diagonal, compared to around 6 inches for iPhone 7 and around 6.9 inches for iPhone 7 Plus. In other words, the iPhone 8 would be smaller than an iPhone 7 Plus, yet with an even bigger display.
The sides of the iPhone include the usual volume toggles, mute switch, lock button, SIM card tray, Lightning connector, speaker grille, and what is likely a second faux speaker grille. In line with the iPhone 7, there is no 3.5mm headphone jack, suggesting that the legacy port won't be making a surprise comeback.
Chinese social network Weibo has been the source of numerous part leaks and Apple-related rumors in the past, but as is usually the case with leaks this far from launch, the iPhone depicted in today's image could end up being much different from the one that debuts later this year.
As a point of emphasis, the iPhone drawing pictured above is largely inconsistent with rumors and expectations from Apple analysts that we've heard. A vertical-aligned camera and Touch ID on the back of the iPhone in particular are largely one-off rumors that have not been substantiated by multiple sources.
However, this design cannot be entirely ruled out. As mentioned, Apple prototypes several different iPhones at once, and it will ultimately proceed with a model that is best suited for manufacturing at scale. Over the coming weeks and months, we should begin to see a clearer picture of which design Apple went with.
Around this time three years ago, a similar design drawing and a few real-life photos of a device that ended up being the iPhone 6 surfaced from within Foxconn, so these types of leaks are sometimes credible.
Mitchel Broussard contributed to this report.