Apple is Struggling to Integrate Touch ID Under the iPhone 8's Display
Apple's supposed "biggest bottleneck" in preparing to mass produce the rumored 5.8-inch iPhone with an edge-to-edge OLED display remains integrating Touch ID underneath the display, according to a research note from Cowen and Company analyst Timothy Arcuri obtained by MacRumors.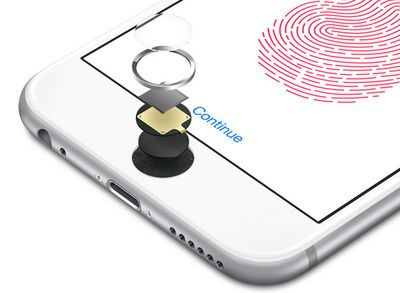 Arcuri, citing his own "field work" within the supply chain, said the current yield of Apple's in-house AuthenTec-based fingerprint sensor solution is low, while noting that Apple seems unwilling to use an outside solution at this time. If Apple cannot resolve these yield issues, he sees three different scenarios:

• Apple removes Touch ID from the 5.8-inch iPhone entirely and relies solely on facial/iris recognition. Arcuri said this is unlikely, as it's not secure enough, risky, and would potentially create issues with Apple Pay.
• Apple puts Touch ID on the back of the 5.8-inch iPhone, but in a different place than the one on the Galaxy S8, which can be hard to reach. Arcuri said this would not be a user-friendly or optimal solution to say the least.
• Apple delays production of the 5.8-inch iPhone, but still announces the device in early September alongside updated 4.7-inch and 5.5-inch models.
Arcuri said Apple is aiming to finalize its fingerprint sensor specification by May, but if its in-house AuthenTec-based solution is not feasible due to yield issues, mass production of the tentatively named "iPhone 8" could be delayed until September, compared to its usual late July to August timeframe.
Arcuri still expects Apple to announce the 5.8-inch iPhone alongside updated 4.7-inch and 5.5-inch models in September, but supplies may be extremely limited or unavailable whatsoever until later in the year. That timeline echoes recent predictions from Apple analyst Brian White and investment bank Barclays.
It's also a scenario that has occurred with nearly every previous iPhone launch. Last year, the iPhone 7 Plus in Jet Black was a highly popular model among customers, and shipping estimates for online orders quickly slipped to several weeks out. It wasn't until around November that it became more widely available.
The device, which has also been called the iPhone X, iPhone Pro, or iPhone Edition, is expected to feature a new glass and stainless steel design, wireless charging, longer battery life, a new front-facing camera with 3D sensing capabilities, and improved water resistance. It also won't have a physical Home button.
Touch ID-related yield issues may be the reason why 5.8-inch iPhone components and schematics have yet to leak from the supply chain. iPhone 7 and iPhone 7 Plus parts began to leak around March last year.
Cowen and Company maintains an "outperform" rating for AAPL with a $155 price target.