Many Apple Watch Models 'Sold Out' Ahead of Possible Spring Band Refresh
It's been five months since Apple launched a new line of band options for the Apple Watch alongside the Apple Watch Series 2 and iPhone 7 last September. Now, Apple.com has a few notable stock shortages of Series 2 bundles and -- to a lesser extent -- single band options for the Apple Watch, likely indicating an incoming spring collection of Apple Watch bands. New Apple Watch hardware is expected for later in 2017.
The same shortage phenomenon occurred last summer, ahead of the new bands that launched in September. While hardware updates have been less frequent, Apple has kept new band lineups on a seasonal release cycle approximately every six months, solidifying the Apple Watch as an ever-changing fashion accessory in the company's eye. Since the original Apple Watch launched, there have been four seasonal collections: Spring 2015, Fall 2015, Spring 2016, and Fall 2016. New bands potentially arriving in the next few weeks would mark the first band collection of 2017.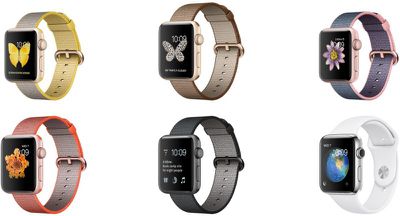 Tracked on the U.S. Apple.com store, the largest shortages for Apple Watch Series 2 bundles are mainly for models with Woven Nylon bands. Of the six Series 2 models that include Woven Nylon bands, five have models that are listed as "Sold Out" on Apple.com and in the Apple Store iOS app. Conversely, all aluminum Apple Watch Series 1 and Series 2 models with Sport Bands were available to buy at the time of writing.

Out-of-Stock Apple Watch Bundles
Apple Watch with Aluminum Case
- 38mm Silver Aluminum Case with Pearl Woven Nylon
- 38mm Gold Aluminum Case with Yellow/Light Gray Woven Nylon
- 42mm Gold Aluminum Case with Toasted Coffee/Caramel Woven Nylon
- 42mm Rose Gold Aluminum Case with Space Orange/Anthracite Woven Nylon
- 38mm and 42mm Space Gray Aluminum Case with Black Woven Nylon
Apple Watch with Stainless Steel Case
- 38mm and 42mm Stainless Steel Case with Saddle Brown Classic Buckle
- 38mm Stainless Steel Case with Midnight Blue Modern Buckle (all band sizes)
- 42mm Stainless Steel Case with Midnight Blue Leather Loop (both band sizes)
- 38mm Stainless Steel Case with Link Bracelet
- 38mm Space Black Stainless Steel Case with Space Black Link Bracelet
The only in-stock Woven Nylon model is the Rose Gold Aluminum Case with Light Pink/Midnight Blue Woven Nylon, and a couple of Stainless Steel bundles are also readily available to purchase, including the basic White Sport Band, Black Sport Band, and Milanese Loop options. Every model of the Apple Watch + Nike is in stock, while every Hermès model is in stock save two: Stainless Steel Case with Rose Jaipur Epsom Leather Single Tour and Stainless Steel Case with Fauve Barenia Leather Single Tour Deployment Buckle.
Out-of-stock Apple Watch Bands are far less numerous than they were last summer, ahead of the Series 2's introduction in the fall. In June, MacRumors reported upwards of 35 different Apple Watch bands marked as "Sold Out" on Apple.com; today, just five bands are unavailable. In both 38mm and 42mm Classic Buckle, the Sea Blue, Midnight Blue, and Red colorways are sold out, while in the 38mm Modern Buckle, the Midnight Blue and Black options are currently unavailable.
That leaves a plethora of other Apple Watch bands on the store for users to purchase, including every Sport Band and Woven Nylon Band. Some bands available have lengthy shipping estimates, like the Midnight Blue Leather Loop's 6-8 week delivery window, but most will arrive in the mail with Apple's usual 1 day speedy delivery, and up to 2 days for free shipping.
Apple Watch stock shortages aren't terribly uncommon, with some bundles and bands occasionally selling out months ahead of a refresh, but given Apple's commitment to timely band releases and the number of models currently out of stock it's likely that the company will introduce a similar refresh of Apple Watch bundles and bands in the coming weeks. The Spring 2017 collection could also see the launch of an all-new band material, similar to the debut of Woven Nylon a year ago next month, although no specific rumors about new materials have surfaced.
A full hardware refresh isn't expected until later in the year, perhaps alongside the iPhone 8 in the fall, but it's not yet clear if it will mark the Apple Watch's first major design overhaul or another evolution of the basic design profile that debuted in 2015. Rumors have suggested the third-generation Apple Watch will put a focus on improving battery life and performance and may not feature other major changes.