Apple Watch Bands Range in Price from $49 for the Sport Band to $449 for the Link Bracelet
Following today's "Spring Forward" media event where Apple shared additional details on the Apple Watch, the company has a new online storefront that details the prices of all of the different Apple Watch combinations and individual bands. As predicted, Apple is selling the Apple Watch in pre-configured arrangements, but the company is also offering bands on a standalone basis.
The entry-level aluminum Apple Watch sport pricing starts at $349 for a 38mm model with an included sport band, while the 42mm model is priced at $399.
Standalone Sport bands are priced at $49 across the board, and are available in Black w/ Space Gray pin, Black, White, Pink, Blue, and Green. The Apple Watch Sport is only available pre-configured with Sport bands. Each Apple Watch Sport band purchase actually comes with two bands: one Small-Medium band and one Medium-Large band.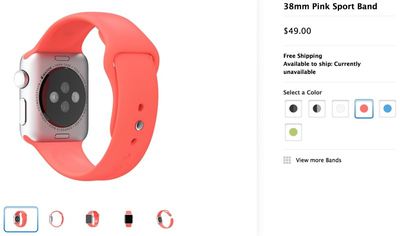 Pricing for the middle tier stainless steel Apple Watch starts at $549 for a 38mm stainless steel case with a Sport Band and maxes out at $1,099 for a 42mm Space Black Case with Black Stainless Steel Link Bracelet. The standard Apple Watch ships with a range of bands, which are also available individually at varying prices.
The Modern Buckle band, only available for the 38mm Apple Watch, is priced at $249 and is available in three sizes and three colors: Brown, Black, Soft Pink, Midnight Blue. The Leather Loop can only be purchased for the 42mm Apple Watch and is priced at $149. It's available in Stone, Light Brown, Black, and Bright Blue. The Classic Buckle, available for both the 38 and 42mm Apple Watch, is also priced at $149. Each of Apple's leather bands is available in multiple sizes, and a guide on how all of the Apple Watch versions fit on the wrist can be found on Apple's site [PDF].


The Milanese Loop, available in both 38 and 42mm configurations, is priced at $149, while the Link Bracelet, also available in 38 and 42mm configurations, is Apple's most expensive watch band at $449.


The priciest Apple Watch, the Apple Watch Edition, starts at $10,000 with a White Sport Band that includes gold accents. The highest-priced Apple Watch Edition is the 42mm 18-karat Yellow Gold version with a Midnight Blue Classic Buckle that also includes gold accents. All of the Apple Watch Edition models appear to include special bands with gold accents that are not available individually at this time.
Apple is also selling standalone MagSafe chargers for the Apple Watch. A 1m charger and cable is available for $29, while a 2m charger and cable is available for $39.
The Apple Watch will be available for pre-order beginning on April 10. Apple will also have in-store displays that allow people to try on the Apple Watch in its retail stores on that date.