Apple Announces New Apple Watch Sport Bands and Gold and Rose Gold Finishes
At today's media event in San Francisco, Apple confirmed two previous rumors by announcing a new line of Apple Watch Sport band colors alongside a new array of metal finishes for the Sport line. Although they were touched on briefly, the new Sport bands were said to be part of a "Fall collection" and will portray softer and darker colors than the bright, neon line of Sport bands Apple put out in the Spring.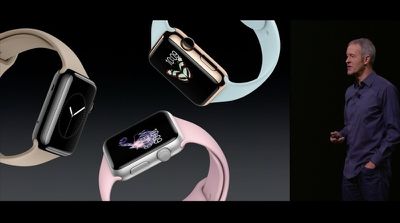 Apple updated its storefront shortly after the event ended with the full list of new Sport band colors available to buy for the Apple Watch. They include: Walnut, Stone, Antique, Fog, Turquoise, Midnight Blue, Vintage Rose, Lavender, Orange, and (Product) Red.
These were announced alongside two new finishes in anodized aluminum -- gold and rose gold -- for the Sport version of the Apple Watch that will allow customers the option of a less-expensive gold finish. There's also a brand new Space Black stainless steel Apple Watch with Black Sport band, a Saddle Brown classic buckle band, and a new classic leather band with a two-tone look. The (Product) Red sport band was confirmed earlier today.
All of the new Apple Watch models and band options are available for purchase beginning today from Apple's online storefront.