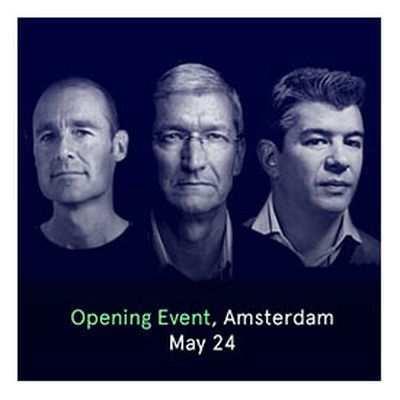 Apple CEO Tim Cook has been named as one of several tech industry executives that will speak at Startup Fest Europe, a festival geared towards helping startups grow faster, according to the event website.
Tim Cook (Apple) and Travis Kalanick (Uber) have accepted their invitation to come to the Netherlands with great enthusiasm. Neelie Kroes (special envoy StartupDelta) personally invited Cook and Kalanick during her visit to San Francisco together with Prime Minister Mark Rutte.
Cook is scheduled to speak on Tuesday, May 24 at 11:10 a.m. local time for approximately 35 minutes. The topic of the discussion has not been revealed, but Cook will likely reflect on his CEO role and operational background at Apple since joining the company in 1998.
Other international keynote speakers scheduled to speak on May 24 include Alphabet chairman Eric Schmidt, Airbnb co-founder Nathan Blecharczyk, Uber co-founder/CEO Travis Kalanick, Seedcamp co-founder Reshma Sohoni, Adyen co-founder Pieter van der Does, Elastic co-founder/CEO Steven Schuurman, Booking.com COO Gillian Tans, The Netherlands P.M. Mark Rutte, European Commission VP Andrus Ansip, and Atomico partner Mattias Ljungman.
Cook has maintained a busy agenda this month, starting with appearances on CNBC's Mad Money and at Met Gala 2016 on Monday. He will also reportedly visit Beijing later in May to meet with high-level Chinese government officials as Apple looks to counter a series of recent setbacks in the country. Meanwhile, a recent charity auction for a one-hour lunch date with Cook raised more than $500,000 for the Robert F. Kennedy Center for Justice and Human Rights. The lunch will take place by May 5, 2017.
Startup Fest Europe takes place between May 24-28 in Amsterdam.
(Thanks, Maarten!)