Apple CEO Tim Cook Teases 'Great Innovation' in Product Pipeline on CNBC's Mad Money
Apple CEO Tim Cook today sat down with CNBC Mad Money host Jim Cramer, where he discussed his thoughts on innovation, the future of the iPhone and the Apple Watch, the growth of Apple services, Apple's performance in China, and more.
Last week, Apple reported its first year-over-year revenue decline since 2003, announcing $10.5 billion in profit on $50.6 billion in revenue. Apple also saw its first ever decline in year-over-year iPhone sales, leading one Wall Street analyst to claim Apple's best days are behind it.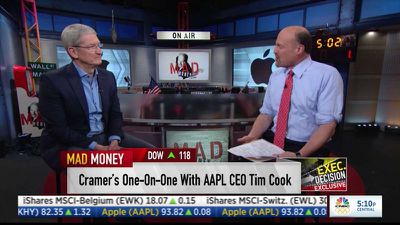 "I couldn't disagree more," said Cook when asked about the comment, attributing the perceived sales dip to an abnormally high upgrade rate in late 2014 and 2015 as people upgraded to the iPhone 6 and pointing towards growth opportunities in China and India. Cook went on to tease future advances in iPhone technology that will inspire people to buy new devices.
We've got great innovation in the pipeline. New iPhones that will incentivize you and other people that have iPhones today to upgrade to new iPhones.

We are going to give you things you can't live without that you just don't know you need today. That has always been the objective of Apple. To do things that really enrich people's lives. That you look back on and you wonder how did I live without this.
He reiterated Apple's future plans later in the interview when questioned on whether Apple is still innovating. "We're fairly secretive," he said, "but I would tell you we're incredibly excited about things we're working on."
Cook also commented on Apple acquisitions. "We've acquired a lot of companies. We generally acquire a company every three to four weeks on average," he said. "We're always looking," he added on the topic of potential major acquisitions.
On the Apple Watch, Cook didn't give many hints about what's coming in the future, but he said he believes it will be seen differently in retrospect, much like the iPod. "You'll see the Apple Watch getting better and better," he told Cramer. "We're still in learning mode."
If you look at iPod, iPod wasn't viewed as a success, but today it's viewed as an overnight success. [...]

And so I think that in a few years we will look back and people will say, "How could I have ever thought about not wearing this watch?" Because it's doing so much for you. And then it will all of a sudden be an overnight success.
Cook also addressed concerns about China, which led billionaire Carl Icahn to
sell his full stake in Apple
earlier this year. Apple's sales fell 26 percent in Greater China in the
second quarter of 2016
, and recently, Apple was
forced to take down
the iTunes Movies and iBooks stores in China on concerns from Chinese officials that believe Apple is "too deeply established" in core industries in the country.
"I could not be more optimistic about China," he said. According to Cook, the Android-to-iPhone switch rate has been "huge" in China, up 40 percent in the first half of 2016 compared to the first half of 2015. He says Apple is working with Chinese regulatory authorities to get its iTunes Movies and iBooks services back online in the country. "We're pretty confident and optimistic that we'll be back online and offering those to our Chinese customers soon."
Cook also spoke at length on the dip in Apple stock, the company's quarterly performance and predictions for next quarter, smartphone penetration in China and India, and Apple's customer loyalty and potential for growth in services.
Cook's segment aired on Mad Money on CNBC at 6:00 p.m. Eastern Time.
Part one
and
part two
of the full episode are now available on the CNBC website and are embedded above.