Tim Cook's Charity Lunch Auction Raises More Than $500,000 for RFK Center
Apple CEO Tim Cook's fourth annual CharityBuzz auction ended this afternoon, raising more than $500,000 for the Robert F. Kennedy Center for Justice and Human Rights. The auction, which garnered more than 40 bids, includes a one hour lunch date with Tim Cook At Apple's Cupertino headquarters along with passes to a forthcoming Apple keynote event.
Two people are able to attend the lunch meeting with Cook, with the experience set to last for approximately one hour. While lunch is included in the price of the auction, travel and accommodations are not. The offer expires on May 5, 2017, and the winner will be able to schedule their appointment on a "mutually agreed upon date."
In the final hours of the auction, bidding ramped up significantly, jumping from $275,000 yesterday afternoon to the more than $500,000 finishing price.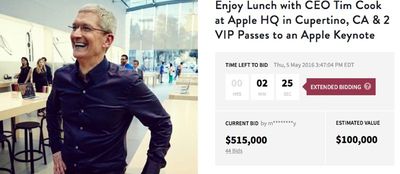 At $515,000, the 2016 CharityBuzz auction brought in more money than it did in 2014 and 2015. In 2014, the auction raised $200,000, while in 2015, it brought in $330,001. In 2013, the first year the auction was held, someone paid $610,000 to have lunch with Cook.
It's possible the auction winner will be able to use the keynote event tickets to attend the keynote for the Worldwide Developers Conference, where Apple is expected to debut new versions of iOS, OS X, watchOS, and tvOS, and perhaps new Mac models.
Proceeds from the auction will benefit the RFK Center for Justice and Human Rights, a charity Tim Cook has supported for several years. Earlier in 2016, Tim Cook was elected to the RFK Center's board of directors.