Apple Hiring Maps Engineer to Work on Improved Community Crowdsourcing, Siri/Passbook Integration
Apple is continuing to work on improvements to its Maps app for iOS and OS X, and a new job listing suggests that better use of crowdsourcing and integration with Siri and Passbook are the next features the company will introduce to provide a better Maps experience.
The job posting, first shared by 9to5Mac, seeks a "Maps Community Client Software Engineer" to join Apple's Maps team. The engineer will focus on "building and extending the Maps application to allow Apple to crowdsource improvements to the Maps experience," and the position calls for high-level UI development and refining of the "Report a Problem" feature in Maps.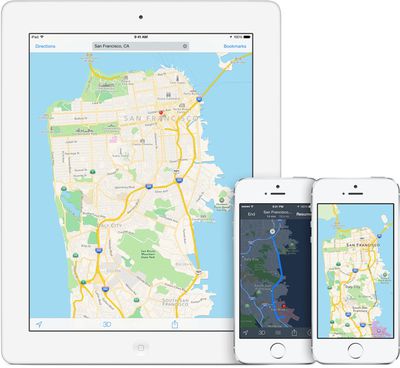 According to the job description, deeper integration between Maps and other system services like Passbook and Siri may be on the horizon to improve crowdsourcing.
As an engineer working on Maps Community, your primary responsibility will be high-level UI development and architecture of the "Report a Problem" feature of the Maps application, and you will work closely with designers and engineers across the company to add new features and build the very best crowd-sourcing experience. You'll also be working on the frameworks and plugins that enable Maps to integrate deeply and seamlessly with parts of the system such as Siri and Passbook, to extend and enhance the feedback experience.
Since Maps received a highly critical reception following its launch alongside iOS 6, Apple has gone to great lengths to improve the software by leaps and bounds. In addition to terminating several people involved with the Maps project and restructuring its entire executive structure, the company has also acquired a glut of mapping companies over the past several years, including C3 Technologies, Broadmap, Embark, Hopstop, WifiSlam, Locationary, and most recently, the developers behind Pin Drop.
The company has also hired a range of "ground truth experts" around the world to improve the quality of the information given by its Maps app, and it's utilized crowdsourcing to introduce significant improvements to Points of Interest (POI) data.
Apple is said to be working to add much-needed features like transit directions and indoor mapping improvements to Maps, but development has reportedly been stymied by internal issues and poor project management.