Apple's New iOS 6 Maps App Drawing Significant Criticism
One of the largest changes in iOS 6 is Apple's decision to replace its Google-powered Maps app with its own solution powered by a combination of its own work and data licensed from other companies such as TomTom. Throughout the developer beta testing process, numerous users reported on the relatively poor quality of Apple's new maps in many regards, while expressing hope that content would improve heading into the public launch.
Despite some improvements over the past few months, Apple's new Maps app has still been one of the most highly criticized aspects of iOS 6 following its debut yesterday. Users have pointed to inaccuracies in Apple's mapping data, errors in locating points of interest, a lack of transit information, and sometimes-bizarre 3D mapping imagery as major issues with the app.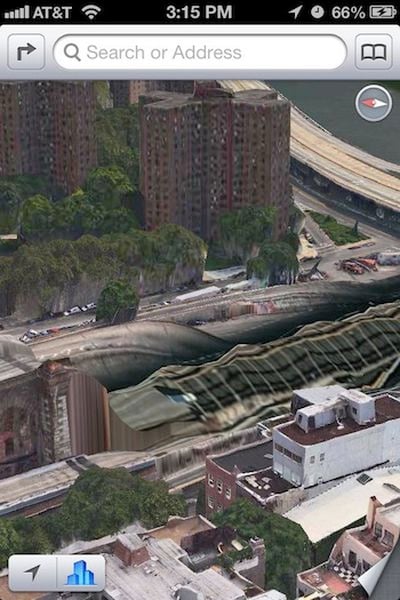 Apple's 3D modeling of the Brooklyn Bridge (Source: @fromedome)
BBC News takes a look
at the reception Apple's Maps app is receiving in the United Kingdom, documenting a few of the specific problems reported by its readers:
Among the user complaints regarding Apple's maps sent to the BBC were:

- Some towns appear to be missing, such as Stratford-upon-Avon and Solihull.
- Others, like Uckfield in East Sussex, are in the wrong location.
- Satellite images of various locations, particularly in Scotland, are obscured by cloud.
- A search for Manchester United Football Club directs users to Sale United Football Club, a community team for ages five and above.
- Users also reported missing local places, such as schools, or strange locations. Another screenshot showed a furniture museum that was apparently located in a river.
In one high-visibility case from Ireland, Apple has categorized Dublin's Airfield Park as an actual airport, sparking government officials to contact the company in hopes of addressing the issue.

Dublin's Airfield Park categorized as an airport
While Apple has been working on its in-house mapping efforts for a number of years as evidenced by a series of acquisitions of small companies working in the market, Google's mapping services have been live for over seven years, allowing the company to build up massive amounts of data and expertise. Consequently, it should come as no surprise that Apple's mapping solutions are not as refined as Google's in many cases, but users have generally been hoping for more from Apple's public launch.