Apple Filling Out its 'Ground Truth' Mapping Team with New Regional and Local Job Listings
As revealed in dozens of new job postings on its website, Apple is once again looking to improve its much-criticized Maps application by increasing the size of its team dedicated to verifying mapping data. The postings are for "ground truth" local experts and regional managers in a number of different locations around the world, including several in the United States, Brazil, Japan, the United Arab Emirates and Europe.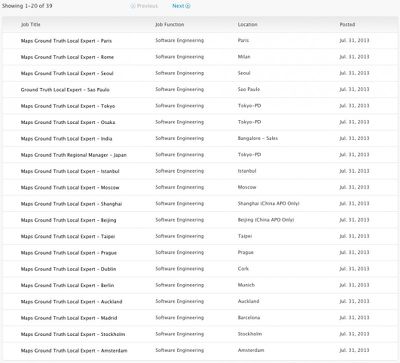 The job descriptions for the "Local Expert" roles are as follows:
The Maps team is looking for people with a passion for mapping, great testing skills, and deep regional knowledge to help us build better and better maps. In this position, you will be responsible for the quality assessment of Apple Maps for your region, including both data and map services.  You will monitor changes to our maps, provide feedback on unique local map requirements, collect ground truth information, and evaluate competing products.
The roles call for someone with a bachelor's degree or equivalent, prior experience in quality assurance and a "detailed knowledge of the unique features of your local area, including preferred place names, prominent businesses, public services, seasonal events, driving routes, landmarks, and road names".
The positions are clearly intended to help Apple improve the quality of its mapping service, which since its release has been plagued with problems, including mislabeled towns and cities, inaccurate driving directions, as well as establishments (such as restaurants and bars) which had been closed for years.
MacRumors first noticed Apple specifically hiring a ground truth expert in Australia back in February, with the company moving to hire managers for the program in March. With this latest batch of job listings, Apple is clearly looking to fill out its team with a variety of regional and local positions.
Apple's Maps issues in iOS 6 prompted an open letter by Tim Cook on the company's home page and are rumored to be one of the reasons why Scott Forstall, Apple's previous Senior Vice President of iOS Software, was ousted from the company back in October 2012. The company has acknowledged that it is working hard to improve its mapping services, which are coming to OS X Mavericks later this year.
In just the past few weeks, Apple has been revealed to have acquired small mapping firms Locationary and HopStop as it seeks to improve its own services.
(Thanks, Georgij!)