Apple Maps to Include Transit Directions, Improved Points of Interest Data in iOS 8
Apple is preparing to significantly improve its Maps application in iOS 8, claims a report in 9to5Mac. Apple will slow its work on UI changes and focus instead on improving the underlying infrastructure that powers the application. These data-level changes will make Maps more informative and reliable for iOS users.
The new application will also be injected with new points of interests and new labels to make places such as airports, parks, train stations, bus stops, highways, and freeways easier to find, the sources added. Sources also say that the mapping application's cartography design has been tweaked to be slightly cleaner and to make streets more visible.
Public transit is another major area that Apple will bring to the iOS 8 version of Maps, tapping into the engineering talent the company has acquired from mapping companies such as HopStop and Embark. The new Maps app likely will allow users to find train, subway and bus information in major U.S. and international cities. These public transit options will be embedded in the maps themselves and in the Directions panel, where they will show up in a new tab next to "Driving" and "Walking."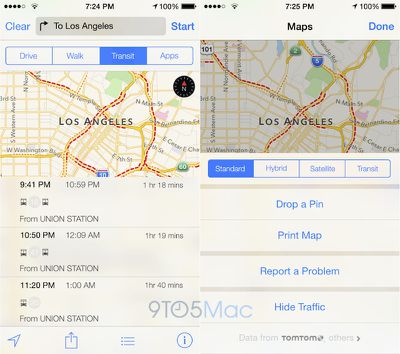 Mockup of iOS 8's transit features
These changes are only the beginning of Apple's proposed plans for its Maps application, as the company is reportedly also working to add indoor mapping views, improved car integration, and augmented reality features in the future.
Apple switched away from a Google-powered mapping solution in 2012 when it introduced its own Maps application alongside iOS 6. Apple's Maps faced extensive criticism at launch when a series of high-profile incidents highlighted embarrassing inaccuracies in mapping data and missing features like street view and transit directions that were available in its competitors' products. Apple CEO Tim Cook even issued a personal apology to iOS owners, promising to improve the app until it lives up to Apple's "incredibly high standard."