Apple Hires Developers Behind Defunct 'Pin Drop' Mapping App
Rumors have suggested that Apple is aiming to open a new research and development facility in Cambridge, England, over the coming weeks, and it appears the company has also made some hires in the area.
According to TechCrunch, Apple has hired five employees that created the Pin Drop mapping app. The hires are not part of an acquisition of the Pin Drop technology, but have included multiple former Pin Drop employees.
Pin Drop was a map app that allowed users to drop custom created tags and pins that could be shared with others to point out interesting landmarks and spots to visit. Pins could be kept private, shared with friends, or shared with the community. Pin Drop's service was shut down on October 31 and the app was removed from the App Store. On Facebook, the app's creators said they were unable to secure the necessary funding to "turn Pin Drop in to the world changing app we envisaged."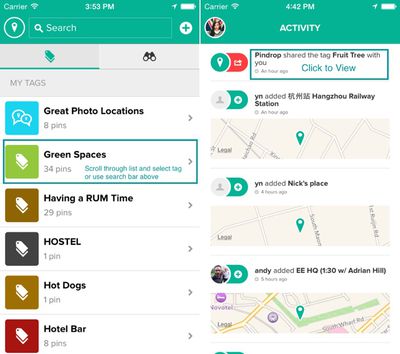 The now-defunct Pin Drop app


An initial Pin Drop blog post mentioned the core Pin Drop team had acquired their "dream jobs" ahead of the shutdown, and one former employee tweeted that he had been hired by Apple, though both hints of new jobs were later deleted. Currently, five former Pin Drop developers are listed as Apple employees, with the following jobs: Senior Product Designer, Software Engineer, Software Engineer, iOS Software Engineer, and Maps Data Analyst.
All of the former Pin Drop employees who now work at Apple continue to be located in London and have not moved to Apple's Cupertino headquarters, suggesting they could eventually be housed in the company's upcoming Cambridge office. It is unclear what their specific roles include, but at least one employee is working on Apple's Maps team.
Apple has worked hard to improve Maps over the last two years, acquiring several mapping companies including C3 Technologies, Broadmap, Embark, Hopstop, WifiSlam, and Locationary. Some major Maps improvements are said to be in the works, like transit directions and indoor mapping, both of which could come in a future iOS 8 update.