Retina MacBook Pro Updates Reportedly Due Tuesday, July 29: Minor Haswell CPU Updates Expected
Following yesterday's reported spotting of in-store digital signage from an Apple retail store in China showing upgraded specs for the Retina MacBook Pro, MacG.co now claims [Google Translate] the update is set to arrive tomorrow, July 29. The information comes from a reliable source who has accurately predicted MacBook Air, iMac, and iPod touch updates in recent months, although the source was off by a few days on the iPod touch update timing.
Few details on the new Retina MacBook Pros are available from the source other than that the update will include both 13-inch and 15-inch models and that only minor changes to the internal model number (J44a and J45a respectively) point to a simple speed bump.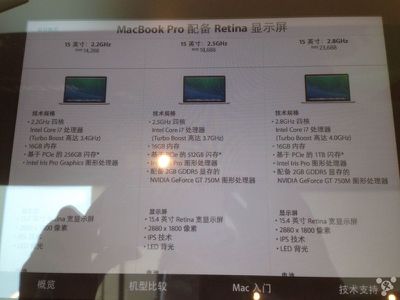 The in-store digital signage had shown details on three 15-inch MacBook Pro models, all carrying "Haswell refresh" processors clocking in at 200 MHz faster than their counterparts currently used in the Retina MacBook Pro line. Those new Haswell chips were introduced by Intel last week, and we noted at the time that the list of three dual-core and three quad-core processors appeared almost custom tailored for a Retina MacBook Pro update.
In addition to the processor upgrades, the signage also pointed to a bump in RAM for the low-end 15-inch model, moving from 8 GB to 16 GB.
While the Retina MacBook Pro upgrade appears imminent, the minor update is in large part a stopgap measure as Apple and other manufacturers await Intel's much-delayed Broadwell family of processors. Broadwell chips appropriate for the Retina MacBook Pro may not be ready until as late as mid-2015.
Update 1:22 PM: MacRumors has received word that seven new model numbers are indeed incoming to retail stores, likely corresponding to the three stock configurations of the 13-inch model and two for the 15-inch model, along with a maxed-out "ultimate" configuration of each as is commonly carried in-store.