Apple Planning to Launch New $199 16GB iPod Touch With Rear Camera, Multiple Colors
Apple appears to be planning on launching a new 16GB fifth-generation iPod touch, according to a source that spoke to MacRumors. The new iPod touch would be a 16GB version of the current 32/64GB iPod touch, coming in six different colors with a rear camera and a lower price tag of $199. Separately, iGen.fr reports that they have heard that a new iPod touch will indeed be launching on Tuesday of next week. Their source did not directly corroborate the pricing and specs, but did say it was a single model only, and not a revision of the entire iPod touch line.
Apple initially launched the 32/64GB fifth-generation iPod touch in October of 2012 with a $299 price tag, but later added a lower-cost silver-only 16GB iPod touch that stripped key features like a rear camera to lower the cost to $229.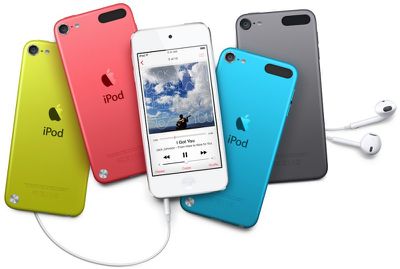 As time passes and technology advances, component prices often drop, which may be why Apple is planning to bring feature parity to its iPod touch lineup nearly two years after the original launch of the fifth-generation iPod touch.
Apple's fifth-generation iPod touch has been lauded for its ultrathin design and its bright colors, but spec wise, the product is inferior to the current iPhone 5s, with only an A5 chip and a 5-megapixel iSight camera, which may be another reason Apple is launching a lower-cost version of the device.
It is unclear what will happen to the existing 16GB iPod touch, but Apple could choose to lower the price of that device even further or discontinue it in favor of the new version with a rear camera.