Chart Suggests Speed-Bumped 15-Inch Retina MacBook Pros with 16GB of RAM Standard Coming Soon
Apple may be planning to launch a slightly refreshed line of 15-inch Retina MacBook Pros complete with faster Haswell processors and 16GB of RAM standard, according to a photo said to have come from the company's Chongqing, China store (via BBS Feng, Google Translate).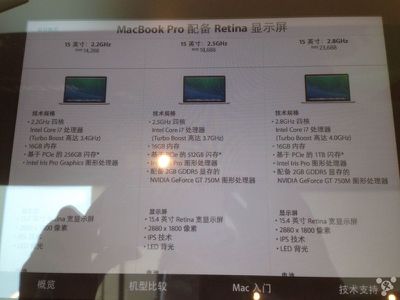 The purported pricing chart shows two standard configurations priced at 14,288 yuan and 18,688 yuan, which is the same as Apple's current pricing for its 15-inch notebook line in China. If real, this pricing chart would indicate that Apple would keep its current pricing instead of offering each new model for less as done for the MacBook Air earlier this year.
The first configuration comes with a faster Intel Core i7 2.2 GHz processor and 16GB of RAM standard compared to the current 2.0 GHz Intel Core i7 and 8GB of RAM found on the current base model 15-inch Retina MacBook Pro. Meanwhile, the second configuration features a 2.5 GHz Intel Core i7 processor and the same 16GB of RAM, up from the current 2.3 GHz Intel Core i7 processor. Both models feature the same graphics, with the first configuration coming with Intel's Iris Pro graphics and the second coming with both the Iris Pro and NVIDIA's GeForce GT 750M.
A third high-end configuration priced at 23,688 yuan also appears on the chart, boasting a 2.8 GHz Intel Core i7 processor, 16GB of RAM, 1TB of flash storage, and Intel's Iris Pro graphics plus a NVIDIA GeForce GT 750M.
All of the processors listed on the chart correspond to Intel's new line of Core i7 Haswell processors launched last week, perhaps indicating that an updated 15-inch Retina MacBook Pro line may be imminent. Apple's line of 13-inch Retina MacBook Pros should also see an update in the near future, as Intel also launched new Core i5 Haswell processors alongside its refreshed i7 Haswell chips.
A minor refresh of the Retina MacBook Pro line was originally noted earlier this year alongside a rumored 12-inch Retina MacBook. According to the latest reports, the 12-inch Retina MacBook may be pushed back to next year because of Intel's delayed Broadwell chips.