Apple Reportedly Launching Updated iMacs with Faster Processors Next Week
Apple is planning to update its iMac line with faster processors and lower prices next week, according to a new report from MacGeneration (Google Translate). Citing the same sources that correctly predicted the MacBook Air refresh this past April, the website also notes that Apple may also include Thunderbolt 2 ports on the new iMacs and will launch them later in the week instead of the usual Tuesday release day as done for other Apple products.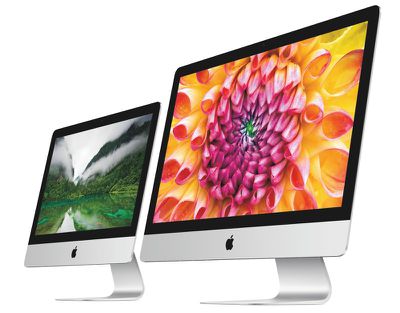 Like the MacBook Air refresh, Apple may be planning to increase the processor speed of at least some configurations by 100 MHz by using a number of recently launched processors, including the 3.3 GHz i5-4590, the 3.4 GHz i5-4690, and 3.6 GHz i7-4790 for the 27-inch model as well as the 3.0 GHz i5-4590S and 3.2 GHz i5-4790S for the 21.5-inch model. It is also possible that Apple will cut the price of the standard iMac configurations to go along with these minor spec bumps.
KGI Securities analyst Ming-Chi Kuo predicted last year and earlier this year that Apple would be launching a lower-cost iMac in the near future to address growth in foreign markets.
Meanwhile, recent evidence in the OS X Yosemite developer preview has also indicated that Apple is gearing up to launch Retina Display-equipped iMacs in the near future. It is possible that Apple may then initially move to split the iMac lineup, selling the Retina models at higher price points alongside cheaper non-Retina models. A lower price point for the non-Retina models may also help address growth in critical foreign markets such as China.