Intel's Broadwell Chips for Most Macs Not Shipping Until Early to Mid 2015
Intel's line of 14-nanometer Broadwell chips, which are expected to be included in future versions of the MacBook Air, Retina MacBook Pro, and iMac, have been further delayed, reports Chinese site VR Zone [Google Translate] (via CPU World).
According to the site, while Intel will begin production on its extremely low power Core M processors in July and August for a 2014 launch, production on the U and H Broadwell chip series will not begin until much later in the year.
As a result, the Broadwell U 2+3 dual-core chips with GT3 (HD 5000 or Iris) graphics, likely slated for use in the MacBook Air and the 13-inch Retina MacBook Pro, won't be ready to ship until February of 2015. The Broadwell H 4+3e quad-core chips with Iris Pro graphics designed for the larger Retina MacBook Pro and iMac won't be shipping until July 2015 at the earliest.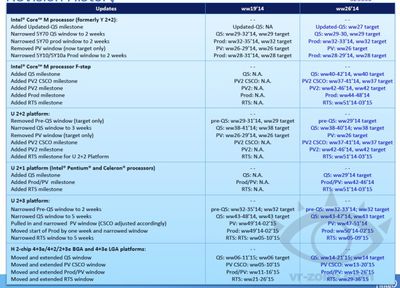 Back in May, Intel CEO Brian Krzanich promised Broadwell processors for the 2014 holiday season, but it appears that the promised chips will be limited to the company's Core M processor series, used in ultra low power products like two-in-one computers. Broadwell chips suitable for Apple products will not make their first appearance until 2015, which Intel essentially confirmed to CNET in June.
"We expect the initial Broadwell-based devices, including fanless 2-in-1s built on the Core M processor, will be on shelves by the end of this year with more products and broader OEM availability in 2015," Intel told CNET on Wednesday.

Intel's Broadwell chips have seen several delays over the course of 2013 and 2014, and were originally slated to enter production in late 2013 before production was delayed until Q1 2014 and then Q3 2014. The delays are reportedly due to problems with the 14-nanometer process used to manufacture the chips.
Intel's continual Broadwell delays are likely impacting Apple's own release plans. Rumors have suggested Apple is planning a fall launch of a refreshed Retina MacBook Pro and a new 12-inch MacBook Air, but it is unclear which chips the company will use. Apple may only be able to offer a minor Haswell processor boost for the Retina MacBook Pro, which will be the only update the line sees until Broadwell is ready. Apple has already given the MacBook Air a Haswell refresh bump alongside a price drop with an update in late April.
On the desktop side, Apple introduced a new low-end iMac last month, but otherwise the lineup has not been updated since last September. The Mac mini has not even been updated to Haswell yet, with its last revision coming in October 2012. It is unknown why Apple has not released updated Mac mini models, as appropriate Haswell chips are readily available.
Intel's Broadwell chips are said to be 30 percent faster and more power efficient than Haswell, offering even greater increases in battery life and performance. According to Intel, the Broadwell delays will not affect the company's next line of processors, Skylake, as the chips are based on new architecture. Broadwell, however, will have a very short lifespan as Skylake has a prospective late 2015 release date.