Wearable Technology at CES 2014: Smart Watches, Activity Trackers, Glasses, and More
As it was during last year's Consumer Electronics Show, wearable technology, in the form of a variety of smart watches, fitness trackers and even smart glasses, will be a major focus of CES 2014, which is slated to begin next week.
This year, CES will feature an all new TechZone exhibit called "WristRevolution," featuring smart watches (both already released and upcoming) from a wide array of companies highlighted by PCWorld, including Kronoz, Cookoo, Sonostar, Metawatch, Archos, Burg, and Pine. Major companies like Qualcomm and Sony will also exhibit smart watches, as will seasoned veteran Pebble.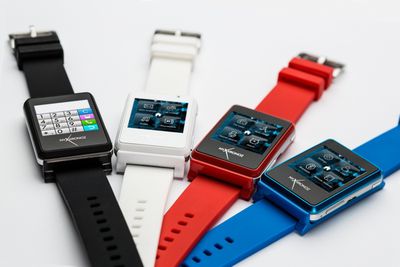 Kronoz ZeNano
Some of the watches, like the Cookoo, offer notifications and more bundled in a standard watch style design, while other products, like the Sonostar, carry a more futuristic wraparound design. Some, like the Kronoz, allow users to answer calls directly on their wrists, and others, like the Pine, also include biometric sensors for measuring heart rate.
Witness the unveiling of next generation tech wearables. The all-new WristRevolution TechZone at the 2014 CES is where style, sensors and connectivity intersect. From customizable and downloadable watch faces to internet-connectivity and app-based programs, the standard wristwatch transforms into a GPS, music player, health monitor, alert and message indicator and more. The WristRevolution TechZone will showcase the latest developments and discoveries for the next wave of advancement for this pocket-sized tech.
Smart watches have soared in popularity over the course of 2013, following the release of the Pebble Smart Watch and an onslaught of rumors about Apple's smart "iWatch," inspiring companies like Samsung to launch their own smart watch offerings.
Along with smart watches, wearable activity trackers like the Fitbit, the Jawbone UP, and the Nike FuelBand are expected to be a popular exhibition category at CES. The show will see old favorites from companies like Fitbit and Basis, showing off their newest offerings the Fitbit Force and the Carbon Steel Basis Tracker, respectively, as well as newer devices like the Lifeband Touch from LG.
Spurred by the popularity of Google Glass, several companies will show off smart glasses, with Epson, Vuzix, GlassUp, and more exhibiting various smart eyewear products. GlassUp, like Google Glass, is designed to allow wearers to view incoming notifications like emails, text messages, app updates, and more, but it is far more simple than Google Glass, lacking key features like a camera.


Wearables that don't fall into other categories, like the MYO armband, will be exhibited as well. First introduced last year, the MYO armband is designed to detect motion and muscle movements, allowing its users to control a Mac, PC, or other device through gestures. The Kiwi Move, a small motion-tracking dongle, works similarly to an activity tracker but can be worn anywhere, while the Lumo is a back brace designed to sense and correct posture. Intel has also promised to unveil some non-specific "innovative wearables" during CES.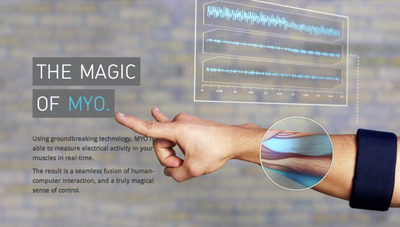 Wearable technology will also veer into some radical new arenas at CES, with i4c debuting VOYCE, a wearable monitor designed for dogs. The collar, which includes a number of biometric sensors, measures vital signs.
In addition to the above mentioned products, many other wearable surprises are expected to debut at CES this year, skyrocketing wearable technology to a new level of popularity.
CES 2014
will take place from Tuesday, January 7 to Friday, January 10 in Las Vegas.