Health monitoring products have recently seen a huge surge in popularity, with offerings like the Jawbone UP and the Nike Fuelband bringing consumer awareness to the connected devices.
Several different companies debuted new wearable fitness tracking devices at CES this year, including Fitbit, Fitbug, Withings, and BodyMedia.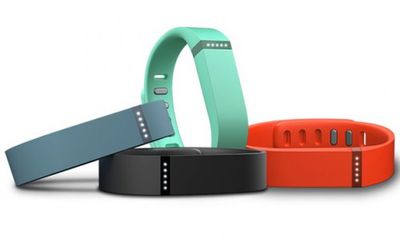 Fitbit Flex
Fitbit, known for its tiny clip-on Fitbit One, announced the Fitbit Flex, which is a wristband that is similar in design to the Jawbone UP.
Like the Fitbit One, The waterproof Flex automatically counts calories burned, distance walked, and steps taken. It can also be used to record food intake and sleep quality, via an app.
Data is sent to a personalized website using Bluetooth Smart, and the band lasts between five and seven days on a single charge. The Flex will be available in Spring 2013 for $100.

Fitbug Orb
Fitbug (via Engadget) is a UK-based company that just debuted its new Fitbug Orb, a small, button-sized activity monitor.
The Orb measures steps taken, distance traveled, calories burned, and sleep quality. Like other offerings, the Orb allows for food recording. The Orb is designed to be worn in different accessories, like a belt clip, lanyard, fitness band, or sleep pouch.
Though the Orb has no display, it does use Bluetooth Smart to connect to the iPhone or the iPad. Fitbug's Orb will be available in Spring 2013 for $50.

Withings Smart Activity Tracker
Withings Smart Activity Tracker is a small, clip-on health monitor that is similar in design to the Fitbit One. It measures sleep quality, food intake, movement, and pulse rate, with a touch-sensitive front and a heart rate sensor in the back.
The Activity Tracker also uses Bluetooth Smart to connect to Withings' Health Mate app, and it comes with an estimated two week battery life. Withings Smart Activity Tracker is due before the end of March, and while no retail price has been announced, Withings says that the pricing will be in line with competing products.

BodyMedia CORE 2
BodyMedia CORE 2 is the second iteration of BodyMedia's popular health and fitness tracking band. Like the prior version, the Core 2 captures 5,000 data points per minute, measuring calories burned, exercise intensity, and sleep patterns. It has a three-axis accelerometer in addition to heat flux and galvanic skin response sensors.
The quarter-sized device is designed to fit into a range of fashion-oriented interchangeable straps and cuffs, and connects to BodyMedia's existing apps and web portal using Bluetooth Smart.
The BodyMedia CORE 2 will launch in August of 2013, with additional faceplates, straps, and cuffs coming at a later date. Pricing information is not yet available.