Samsung Unveils $299 Galaxy Gear Smart Watch With One-Day Battery Life
Samsung today announced its Galaxy Gear Smartwatch, a wearable device that features a 1.63-inch 320 x 320 resolution AMOLED touchscreen, built-in speakers, and a 1.9-megapixel camera in the strap. It has an 800MHz processor, 4GB of storage, and 512MB of RAM.
Samsung's watch will support voice control with S Voice and is able to make and receive calls and video memos. Designed as a companion for the newly introduced Galaxy Note 3 and new Note 10.1, the Galaxy Gear also notifies wearers of text messages and other updates. It does not function on its own, requiring a Bluetooth 4.0 connection to work.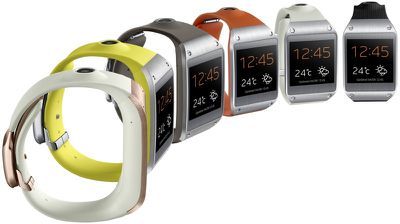 The Galaxy Gear is not currently compatible with Samsung devices beyond the Note 3 and 10.1 as it runs Android 4.3, but it will support 70 third-party applications at launch, including popular offerings like Evernote and Path, along with many health oriented apps like RunKeeper and MyFitnessPal.
It includes a pedometer to measure fitness levels, an accelerometer, and a 315 mAh battery that provides up to one day of regular use, according to Samsung reps that spoke to Engadget.
Poor battery life is said to be one of the main factors that Apple is working to overcome with its own iWatch, which is currently in development. In March, a report suggested that Apple had yet to reach its target goal of four to five days of battery life for the device.
The Verge went hands-on with the Galaxy Gear, criticizing the battery life and finding it to be "bulkier than the Pebble" with a "tangible lag."
There are a couple of significant downsides that temper my enthusiasm for the new Gear. First and foremost is the speed and intuitiveness of the user interface — or rather, the lack thereof. There's a tangible lag to anything you do with the Gear, while the swipe gestures are hard to figure out and do different things depending on where you are in the menus.

Samsung promises "about a day" of endurance from the Gear, but by the end of our briefing with the company, the cameras on most of its demo units were refusing to turn on due to the watches running low on power.
Samsung is offering the Galaxy Gear in six different colors, including Jet Black, Mocha Gray, Wild Orange, Oatmeal Beige, Rose Gold, and Lime Green. It will also come with 10 different clock options with more choices available for download.
"I believe it will become a new fashion icon around the world," said Samsung CEO JK Shin.
The Galaxy Gear will be launched alongside the Galaxy Note 3 in 140 countries beginning on September 25 and will be available worldwide in October. It will be priced at $299.