Apple Launching iTunes Movie Offerings in Over a Dozen New Countries
Late last month, Apple launched the iTunes Music Store in 12 new European countries, with the updated terms and conditions for users in those countries also addressing movie and TV show content despite those options not being made available in the new countries.
It now appears that Apple has begun rolling out iTunes Store movie content in a number of these and other countries, marking yet another substantial international expansion to Apple's content catalog.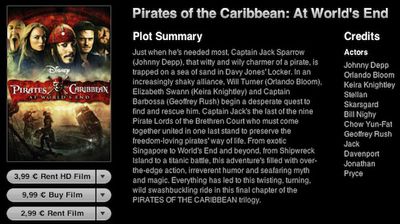 Movie listing from Estonian iTunes Store
Based on reports from readers and an examination of the iTunes Store, it appears that movies are now available in Bulgaria, Cyprus, Czech Republic, Estonia, Hungary, Latvia, Lithuania, Malta, Poland, and Slovakia, and Slovenia – all countries that had been included in the latest round of music store expansion. Curiously, the Romanian iTunes Store appears to be the only one of the twelve recent music additions to have not yet received movie content.
Earlier this week we also received a couple of reports of movies becoming available in Greece and Portugal, two countries that have had music store access since 2004, suggesting that the movie expansion may be even broader.
As has been in the case with other similar content expansions, Apple has not yet launched dedicated navigation bar tabs in iTunes for movies in the new countries, but the content is showing up in search results.
One other batch of new European markets for iTunes Store movie content went live in late September, with the Apple TV launching in those countries soon after. Consequently, customers in countries where movie content is launching this week may also be seeing the Apple TV debut in the near future.