Apple Rolling Out iTunes Movie Content in New European Countries
Just as Apple is apparently planning to bring the iTunes Music Store to ten more European countries, the company also seems to be rolling out access to iTunes movie sales and rentals in a number of European countries where it already offers music content.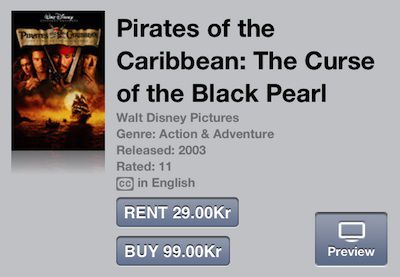 Movie from Danish iTunes Store
Reports of the new movie offerings began coming in from
MacRumors
readers late yesterday, with Belgium, Denmark, Finland, Netherlands, Norway, and Sweden so far having been cited as adding the new movie content. Apple has not yet added a dedicated movie section to the iTunes Store in these new markets, but content is accessible through the store's search function.

Movie from Finnish iTunes Store
The content expansions appear to be extending even beyond music and movies, with
macprime.ch reporting
[
Google translation
] that paid iBookstore content has just begun showing up in the Swiss store. The Swiss iBookstore had previously been limited to free content, primarily from Project Gutenberg.
Update: setteB.IT notes that paid iBookstore content is also showing up in Italy.