MacBook Pro
Apple's most powerful portable machines -- update expected this fall.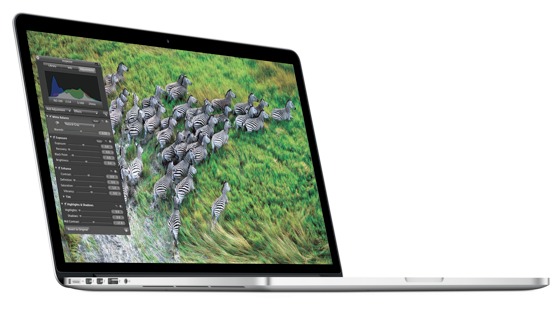 At a Glance
Apple's 13 and 15-inch Retina MacBook Pros are the company's top-tier portable machines, and a major update is expected in the fall of 2016 with a thinner body and a touch panel with Touch ID functionality.
What we Expect
Thinner body
13 and 15-inch sizes
OLED touch panel
Touch ID
Thunderbolt 3
USB-C ports
USB 3.1 Gen 2 10Gb/s support
What's Next for the Retina MacBook Pro
Design
According to KGI Securities analyst Ming-Chi Kuo and Bloomberg Apple plans to introduce completely revamped 13 and 15-inch Retina MacBook Pros in the fourth quarter of 2016. The machines could debut as soon as October and are expected before the end of 2016.
The MacBook Pros are said to have a thinner and lighter form factor than the current MacBook Pro, but the body of the machine will not be tapered like the MacBook Air or the Retina MacBook. It is said to have "shallower" curves around the edges, a wider pressure-sensitive trackpad, and a flatter keyboard.
An OLED display touch panel Apple is calling the "Dynamic Function Row" replaces the physical function keys at the top of the keyboard, and the machine is also rumored to include support for Touch ID, USB-C (with Gen 2 USB 3.1 support for faster transfer speeds up to 10Gb/s), and Thunderbolt 3. The Touch ID button will likely be incorporated into the power button. On current MacBook models, the power button is located alongside the function keys, and it is likely to remain there. It is the most logical position for a Touch ID sensor.
Subscribe to the MacRumors YouTube channel for more videos.
Rumors also suggest the OLED touch panel may be contextual, with buttons that change based on each app that's in use. Designer Martin Hajek has made a mockup of a Retina MacBook Pro with an OLED touch panel, giving us an idea of what it could look like.

Kuo says the new MacBook Pro models will feature the "most significant upgrade ever undertaken by Apple" with the metal injection mold-made (MiM) hinges and the butterfly-mechanism keyboards that were introduced with the 12-inch MacBook. The MiM hinges for the device are already in production and are necessary due to its thin body.

Past rumors have also said Apple developing ultra-thin 13 and 15-inch "MacBooks." Original rumors did not clarify if these "MacBooks" were part of the MacBook, MacBook Pro, or MacBook Air lines or claimed they were MacBook Air updates, but combined with Kuo's information, it seems clear the information pertains to the MacBook Pro line.
Photos depicting components said to be for the upcoming Retina Macbook Pro leaked in late May, giving us our first look at the thinner body of the device. The images feature the body of the 13-inch MacBook Pro, sans trackpad and keys, but noticeably absent from the keyboard are cutouts for the function row.

Instead, there's a blank space where a rumored OLED touch panel will go, and on the sides of the device, there are a total of four USB-C ports and one headphone jack. Next to the keyboard, there are thin speaker grilles.

We can't say for certain that these images depict genuine MacBook parts, but they do appear to line up with the rumors that we've heard so far about the next-generation MacBook Pro.
Internal Specs
Apple's Retina MacBook Pro update schedule has been out of whack for the past two years due to ongoing delays with Intel's chips. Broadwell delays caused Apple to introduce the 13 and 15-inch Retina MacBook Pro at staggered times in 2015, with the 13-inch model last seeing an update in March 2015 and the 15-inch model being updated in May 2015.
While the 13-inch Retina MacBook Pro was updated with Broadwell chips in 2015, the 15-inch Retina MacBook Pro continues to use previous-generation Haswell chips as Apple waits on Skylake chips from Intel. For that reason, the 15-inch Retina MacBook Pro may see a bigger performance boost when a full refresh finally happens.
Skylake chips appropriate for an upgrade to the 15-inch Retina MacBook Pro showed up on price lists from Intel in mid-January of 2016, and Skylake chips appropriate for a 13-inch Retina MacBook Pro update were announced in September with an early 2016 launch scheduled. Both chips will likely be available to Apple in the first months of 2016.
There's also a series of new mobile Xeon E3 chips that could potentially be used in the 15-inch Retina MacBook Pro to improve CPU, graphics, and memory performance even further, but pricing constraints at the high end make the standard Core i7 Skylake chips Apple's more likely choice.

The new MacBook Pros will include more powerful graphics cards aimed at video gamers and professionals who need a lot of GPU power. There is rumored to be an option for a high-performance "Polaris" graphics chip from AMD, which offers better power efficiency in a slimmer package.
AMD's Polaris 11 architecture will bring a significant improvement in performance over the company's previous chips, and AMD has promised "console-class GPU performance for thin and light notebooks" and "extraordinary VR experiences" from the new low-power mobile architecture.
Rumors and code found within macOS Sierra suggest Apple's new MacBook Pros will include Thunderbolt 3 and support for the faster 10Gb/s USB 3.1 Gen 2 specification for improved transfer speeds.<
Release Date
Early rumors about the ultra thin 13 and 15-inch MacBooks suggested they could be introduced during the second quarter of 2016, but later rumors suggest the MacBook Pro models will not debut until the fall of 2016. The machines are expected this year, but a recent rumor says the machines will not be introduced at Apple's September iPhone event. Instead, they could come at a separate event to be held in October.
Current Models
At its "Spring Forward" media event on March 9, 2015, Apple released an updated 13-inch Retina MacBook Pro. The new machine offers several improvements over the 2014 model, including a Broadwell processor, improved Intel graphics, a "Force Touch" trackpad, faster flash storage, and improved battery life. Apple followed up with an update to the 15-inch lineup on May 19, incorporating the Force Touch trackpad, faster flash storage and graphics, and longer battery life.

While the 13-inch models moved to Intel's latest Broadwell processors, the 15-inch models continue to use the same Haswell processors from the previous generation, as Intel had not yet released quad-core Broadwell processors suitable for 15-inch Retina MacBook Pro when Apple refreshed it.
13-Inch Retina MacBook Pro
The 13-inch Retina MacBook Pro lineup includes Intel's Broadwell processors, offering increased performance and battery life compared to the previous generation with Haswell processors. Though there are many internal upgrades, the new 13-inch MacBook Pro continues to have the same design as the previous-generation versions, with a 2560 x 1600, 227 pixels-per-inch Retina Display. It weighs 3.48 pounds and is 0.71 inches thick, as it is focused on performance over portability. Three base configurations are available, priced at $1,299, $1,499, and $1,799 depending on processor and storage space.

With updated Broadwell processors, the 13-inch Retina MacBook Pro offers an impressive battery life of up to 10 hours of wireless web browsing or 12 hours of iTunes movie playback.
Processor, Graphics and Storage
According to Geekbench 3 benchmarks, the 13-inch Retina MacBook Pro's Broadwell chips offer only small gains over their predecessors, which is not surprising as Broadwell focuses on improved efficiency and better battery life over raw processing power. In general, performance improvements of 3-7 percent are seen in various benchmark tests.

Along with a Broadwell processor, the new 13-inch Retina MacBook Pro comes equipped with upgraded Intel Iris Graphics 6100, estimated to be slightly faster than a dedicated GeForce 820M.
There is no option to add a discrete graphics card to the 13-inch Retina MacBook Pro as there is in the 15-inch Retina MacBook Pro.
According to Apple, the 2015 13-inch Retina MacBook Pro features upgraded flash storage that is two times faster than the flash storage in the previous-generation machine. Independent testing has confirmed that the flash storage in the machine is indeed much faster than the flash storage in previous models.
Force Touch Trackpad
The major new feature in the 2015 13-inch Retina MacBook Pro is a revamped "Force Touch" trackpad, which was also added to the new Retina MacBook. The trackpad's Force Touch capabilities allow it to distinguish between a hard press and a soft press, enabling new gestures.
For example, while a light press is a regular click, a deeper press on a highlighted word while browsing Safari might bring up a Wikipedia entry, much as a control + click does now. There are a number of new built-in gestures, and Apple's also allowing developers to access Force Touch APIs to build pressure sensitivity into Mac apps.
The trackpad works using four Force Sensors, which allow users to click anywhere on the trackpad. This is an improvement over previous-generation trackpads that were difficult to click near the top portion adjacent to the keyboard.
The Force Sensors that detect presses work in conjunction with a magnet-powered Taptic Engine, giving users tactile feedback on the actions they make. This combination of Force Touch and haptic feedback means the actual trackpad no longer moves -- there is no actual physical clicking -- but it continues to feel largely the same as the previous trackpad.

Electromagnetic coils on Force Touch trackpad, which push and pull against a metal rail to create a "buzz" of feedback with each click (Source: iFixit)
Essentially, when the trackpad on the new Retina MacBook Pro is pressed with enough force to "click," the trackpad vibrates against the fingers to let users know they've performed the action. According to reviews of the Force Touch trackpad, the haptic feedback feels very much like a physical click.
Other Features
The 13-inch Retina MacBook Pro also includes faster 802.11ac Wi-Fi, Bluetooth 4.0, dual Thunderbolt 2 ports to allow users to connect multiple displays, dual mics, stereo speakers, two USB 3 ports, an SDXC card slot, an HDMI port, a headphone port, and a MagSafe 2 power port.
The new 13-inch Retina MacBook Pro models no longer support Windows 7 in Boot Camp.
Build-to-Order Options
The two middle-tier Retina MacBook Pro options can be configured with a 2.9GHz dual-core Intel Core i5 processor, while the high-end model can be configured with a 3.1GHz dual-core Intel Core i7 processor.
The maximum amount of RAM available for the machines is 16GB, and the high-end 13-inch Retina MacBook Pro can be configured to have 1TB of flash storage. Lower-end models ship with 128GB or 256GB.
15-Inch Retina MacBook Pro
Apple updated the 15-inch Retina MacBook Pro on May 19, 2015, and while it does not include Broadwell processors because of Intel's delays, the 2015 machine does offer many of the same improvements introduced with the 13-inch Retina MacBook Pro.

Among the improvements are the same Force Touch trackpad as the 13-inch model, improved discrete graphics from AMD, faster flash storage, and a bump in battery life from 8 hours to 9 hours, enabled in part by the thinner Force Touch trackpad making room for a slightly larger battery.
The solid state drive in the 15-inch Retina MacBook Pro is the fastest notebook drive Apple has debuted yet, reaching throughput speeds up to 2GB/s. It is 2.5 times faster than the SSD in the previous-generation 15-inch Retina MacBook Pro.
The 2015 15-inch MacBook Pro still offers a quad-core Crystal Well processor, a variation of the Haswell, and it includes Intel's Iris Pro HD 5200 graphics. The high-end model now features AMD Radeon R9 M370X discrete graphics with 2 GB of memory, an upgrade over the NVIDIA GeForce GT 750M graphics from the previous generation.
Like the 13-inch model, the 15-inch MacBook Pro offers faster 802.11ac Wi-Fi and PCIe-based flash storage, as well as dual Thunderbolt 2 ports to allow users to connect multiple displays.
The entry level 15-inch Retina MacBook Pro can be upgraded to a maximum 2.8 GHz quad-core Intel Core i7 processor and 1 TB of PCIe-based flash storage. The high-end version includes the same upgrade options, but it also comes equipped with AMD Radeon R9 M370X graphics. With all upgrades selected, the ultimate 15-inch Retina MacBook Pro is priced at $3,199.
Non-Retina MacBook Pro

Apple has not updated its non-Retina MacBook Pros with Haswell processors and has ceased offering the non-Retina 15-inch MacBook Pro. While Apple is still selling the non-Retina 13-inch MacBook Pro, it has not been refreshed since June of 2012. The stock configuration did receive a $100 price cut to $1099 on July 29, 2014.
As the Retina MacBook Pro has reached near pricing parity with the non-Retina version with recent price drops, Apple will likely discontinue its non-Retina model in favor of an all Retina MacBook Pro lineup at some point.
How to Buy
All of Apple's MacBook Pro models can be purchased from the online Apple Store, from an Apple retail location, or from select Apple Authorized Resellers. All models of the 13-inch and 15-inch MacBook Pro ship within 24 hours from the online Apple Store.
The MacBook Pro - Beyond 2016
According to a leaked Intel processor roadmap outlining future Kaby Lake chips, Apple may need to make some graphics changes to machines set to launch in 2017 and beyond. Intel's next-generation Kaby Lake chips, the successor to the current Skylake chips, will not offer options for high-performance mobile chips with high-end integrated graphics, spelling trouble for future 15-inch Retina MacBook Pro machines.

Apple uses high-end integrated graphics in the current entry-level 15-inch MacBook Pro models, and without a Kaby Lake option, Apple will need to use Skylake chips for an extended period of time or use discrete graphics for all of its 15-inch machines, rather than just the higher-end 15-inch models.
The 13-inch MacBook Pro is not affected as Intel plans to release 28-watt U-Series chips with high-powered integrated graphics appropriate for use in that machine in the first quarter of 2017.
Best Prices