Space Black MacBook Pro With Anti-Fingerprint Seal Revealed in First Hands-On Videos
The new 14-inch and 16-inch MacBook Pro models announced on Monday are available in a new Space Black finish when configured with M3 Pro or M3 Max chips. Notably, Apple says this finish features an "anodization seal" to "greatly reduce fingerprints."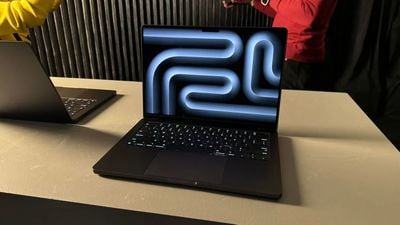 Apple already made the MacBook Air available in a darker Midnight finish, and it is considered by many to be a fingerprint magnet. Based on hands-on videos of the new MacBook Pro models shared following Apple's event, the new anti-fingerprint seal does appear to be an improvement compared to the MacBook Air, but more testing is needed.
In the hands-on video below, The Verge's Dan Seifert said "I got like 30 seconds to touch the new Space Black model, and yeah, I guess there are fewer fingerprints on it, but we'll really have to see how it holds up in the real world."
Six Colors editor-in-chief Jason Snell said
the Space Black finish is "generally more resistant to fingerprints," but he said some fingerprints are still to be expected. He also said Space Black is more like a "dark gray" instead of actual black:
I got my greasy monkey paws on a Space Black laptop and can report that Apple's as good as its word in the sense that it seems generally more resistant to fingerprints and other smudges.

But I don't want to exaggerate this feature: you can still see fingerprints. They just aren't as prominent. This is a progressive improvement over something like the Midnight M2 MacBook Air, but it's not a cure-all.

Similarly, I need to warn you not to get too excited about Apple finally making a black MacBook Pro. Space Black is not actually as black as space. It's a dark gray. Yes, it's appreciably darker than the Space Gray on the current MacBook Pros (and the new base model), but it's still a shimmery metallic gray. Fans of Darth Vader stand down.
Another hands-on video from Brian Tong:
MobileSyrup's Patrick O'Rourke
said "I have very greasy fingers and spent several minutes in the hands-on area trying to smudge the 'Space Black' colour — I couldn't."
Gizmodo's Kyle Barr said "I did have the chance to put my grubby hands on the newest M3-powered MacBook Pros, and while I didn't see many leftover smears on the surface, it didn't take long for Apple staff to swoop in with microfiber cloth in hand to remove any wayward stains," so testing will be needed outside of a controlled environment.
XDA's Brady Snyder on Space Black and fingerprints:
Though the changes to the M3 MacBook Pro were mostly internal, there's a new color called Space Black. It looks better in person than it did in Apple's unveiling, but it's still not black. I'd compare it to the black color of the iPhone 5 or the iPad mini 2. It's still nowhere near the black color we saw on the polycarbonate MacBooks in the mid-2000s. As you can see in the photos below, this MacBook can look lighter and darker based on lighting conditions, much like Apple's Midnight colorway. However, compared to that color, the MacBook Pro does seem to be less of a fingerprint magnet.
The new MacBook Pro models are available to order now, and most configurations will begin arriving to customers and launch in stores on Tuesday, November 7. Configurations with the M3 Max chip launch later in November.