MacBook
Updated with Kaby Lake processors and faster SSDs in June of 2017.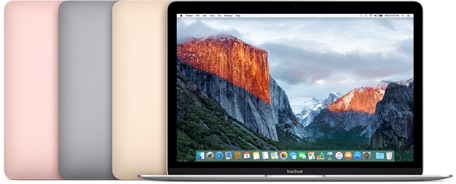 At A Glance
The 12-inch MacBook is Apple's thinnest, lightest notebook with a low-power Kaby Lake processor, a Retina display, USB-C, and a revamped trackpad. The MacBook was updated with Intel's Kaby Lake processors, new GPUs, an updated keyboard, and much faster SSDs in June 2017.
Features
Ultra-thin design
No fan, silent operation
Revamped trackpad
Kaby Lake processors
Retina display
Silver, Space Gray, Gold, and Rose Gold colors
The 2017 MacBook
Apple introduced the second update to its ultra-thin 12-inch MacBook on June 5, 2017, debuting new machines with faster processors, better graphics, faster SSDs, and support for up to 16GB RAM. Aside from these internal changes and the addition of a revamped keyboard, the MacBooks are identical to previous-generation 2016 models.
First introduced in March of 2015, the MacBook is Apple's newest Mac product line, distinct from the existing MacBook Air and MacBook Pro lineups. The MacBook is Apple's thinnest, lightest Mac to date with terraced battery technology and a fanless design enabled by a low-power Core M processor.

Measuring in at 13.1mm thick, the MacBook is 24 percent thinner than the MacBook Air, and it weighs just two pounds, lighter than both the 2.38 pound 11-inch MacBook Air and the 2.96 pound 13-inch MacBook Air. It has a 12-inch Retina display with a resolution of 2304 x 1440.
The third-generation MacBook continues to use the same design as the original version, featuring a full-size edge-to-edge keyboard with a speaker grille located above to save space, MacBook Pro-style black display bezels, and a Force Touch trackpad that enables Force Click, allowing users to use pressure-based click gestures. The trackpad also incorporates haptic feedback for a tactile response when it's used.
Due to its thinness, the MacBook uses a second-generation "butterfly mechanism" for the keyboard keys to make them 40 percent thinner than traditional keyboard keys and significantly changing the feel. The keys are also more stable for better precision when typing and each key is backlit with a single LED for uniform brightness.

Apple's MacBook comes in four colors that match the iPad and the iPhone -- Silver, Space Gray, Gold, and Rose Gold. Rose Gold was introduced as a color option in 2016 to match the Rose Gold iPhone and 9.7-inch iPad Pro.
The 2017 MacBook uses Intel's Kaby Lake chips with integrated Intel Intel HD Graphics 615 for 20 percent improved processor speeds and faster graphics performance. Also included is 50 percent faster PCIe-based flash storage and up to 16GB of 1866 MHz memory.
A single USB-C port continues to supply power, USB 3.1 connectivity, and DisplayPort 1.2, HDMI, and VGA capabilities. The MacBook continues to feature 802.11ac Wi-Fi, Bluetooth 4.0, stereo speakers, dual microphones, a 3.5mm headphone jack, and a 480p FaceTime camera.

The 2017 MacBook features up to 10 hours of battery life when browsing the web and up to 12 hours of iTunes movie playback thanks to the new, more efficient Kaby Lake chips.
Issues
Customers who own a 2015 MacBook or a 2016 MacBook Pro, machines with a butterfly keyboard, are becoming increasingly dissatisfied with failure rates for the machines due to keyboard issues.
Problems with the keyboard on these two machines started shortly after the release of the 2015 MacBook, and have continued since then. Recently, a class action lawsuit was filed against Apple over the issue, citing Apple's failure to disclose the problem to customers.
For many affected devices, Apple is offering repairs, but some customers who have out of warranty machines have had to pay for the fix.
It's not entirely clear how widespread the issue is as much of the discontent can be attributed to a vocal minority, but given the media attention, Apple may soon offer a repair program or address the problem in some other way.
Design
Apple designed the MacBook to be thinner and lighter, but also more functional and intuitive. When it comes to appearance, the MacBook looks like a marriage between the MacBook Air and the MacBook Pro, featuring a super thin clamshell design and a black bezeled display. The MacBook design was introduced in 2015 and remains unchanged in 2017.

At 13.1mm thick when closed, the MacBook is Apple's thinnest notebook to date, and it weighs just two pounds. The display portion of the notebook is only 0.88mm thick, which means it does not have room for the same light-up rear Apple logo that's found in Apple's existing MacBook Pro and Air lines. Instead, it has a polished, embedded Apple logo that more closely resembles the logos found on the iPhone and the iPad.
The MacBook has an edge-to-edge keyboard with a speaker grille above the keyboard, and a single USB Type-C port on the left. On the right, there's a 3.5mm headphone jack. Aside from the USB-C port and the headphone jack, there are no other ports on the MacBook.
Display
The MacBook features a 12-inch Retina display that Apple calls "paper thin" at 0.88 millimeters. It's the thinnest Retina display ever on a Mac, which Apple says was created using a manufacturing process that creates edge-to-edge glass that's just 0.5 millimeters thick.

It has a resolution of 2304 x 1440 with 226 pixels-per-inch, a 16:10 aspect ratio, and a 178 degree viewing angle.
According to Apple, the MacBook includes redesigned pixels with a larger aperture, which allows more light to pass through. That let the company use LED backlighting that's 30 percent more power efficient but still offers the same level of brightness.
Keyboard Redesign
Because the MacBook is so thin, Apple had to entirely redesign the keyboard, leading to a new key feel that's seen some criticism. According to Apple, the keyboard is "dramatically thinner" than the keyboard in the MacBook Air.

It includes a butterfly mechanism underneath the keys that's 40 percent thinner than a traditional keyboard scissor mechanism, but also "four times more stable." Apple says that the butterfly design offers better precision regardless of where a finger strikes the key. A traditional scissor mechanism is focused on the center of the key, causing wobble around the edges.

The MacBook required a more precise key because hitting a key off-center on such a thin keyboard could cause keystrokes not to register, leading to the more precise butterfly mechanism that ultimately takes up less vertical space.
To keep the keyboard thin, Apple opted to remove the LEDs and light guide panel that traditionally light up its keyboards, opting instead for a single LED built into each key. This has the benefit of no light leak around each key cap for a much cleaner look.

In the 2017 MacBook models, Apple has introduced a second-generation butterfly keyboard mechanism with dome switches beneath each key on the keyboard that have been optimized for a more responsive feel, delivering a greater sense of keyboard travel for a more satisfying press under the fingers.
Intel Kaby Lake Processors
The third-generation MacBook uses Intel's Kaby Lake processors, enabling fanless operation. At the low end, the MacBook includes a 1.2GHz dual-core Intel Core m3 processor, while the higher-end machine uses a 1.3Hz dual-core Intel Core i5 processor. A 1.4GHz dual-core Intel Core i7 processor is available through Apple's custom configuration options.
Kaby Lake processors are faster and more efficient than the previous-generation Skylake processors used in the second-generation MacBook, and thus the new MacBooks see speed improvements of up to 20 percent.
All new MacBook models use integrated Intel HD Graphics 615, which are faster and more efficient than the Intel HD Graphics 515 used in the previous-generation MacBook. The MacBook supports full native resolution on the built-in display while also powering an external display of up to 3840 x 2160 pixels at 30Hz.
Memory and Storage Improvements
Along with Kaby Lake processors and faster graphics, the 2017 MacBook's performance is also bolstered by much faster PCIe-based flash storage, which Apple says is 50 percent faster than the storage used in the previous-generation 2016 MacBook.
As for RAM, the 2017 MacBook includes 8GB of 1866MHz LPDDR3 memory as a default option, which can be upgraded to 16GB of 1866MHz LPDDR3 memory.
Force Touch Trackpad
The MacBook includes a Force Touch trackpad, which has been standard on all of Apple's Mac refreshes since the feature was introduced last year. The Force Touch trackpad includes built-in force sensors to detect how much pressure is being applied to the surface of the trackpad, enabling pressure-based gestures.

A "Force Click" gesture, for example, is enabled by a click and a long press. This brings up features like file previews on the desktop, maps in the Mail app and Wikipedia entries in Safari. Adding pressure to the trackpad when scrolling through the maps app or fast forwarding through a movie will gradually speed up movement, and when using features like Mark Up in the Mail app, Force Touch will be able to distinguish between thin strokes and harder presses.
The Force Touch trackpad also has the benefit of being able to register a click on any part of the trackpad, an improvement over the trackpads of the MacBook Air and MacBook Pro. Existing trackpads can be difficult to click near the top part of the trackpad adjacent to the keyboard, a problem solved by the Force Touch trackpad.

The trackpad includes a Taptic Engine that provides tactile feedback whenever it's pressed, letting the users feel what's happening on the screen in addition to seeing it. Apple says it delivers tangible responses to certain tasks, such as aligning annotations on a PDF.
USB-C
The MacBook's thin design prevents Apple from including standard USB and MagSafe ports for charging and as a result, it has just one USB-C port. There was some hope a third-generation machine would add an additional USB-C port, but the 2017 MacBook models continue to feature a single port.
The port offers quick charging, USB 3.1 data transfer at speeds up to 5Gbps (Gen 1), and video output that supports HDMI, VGA, and DisplayPort 1.2 connections.

Apple is selling a USB-C Digital AV Multiport Adapter for $79, allowing users to connect their MacBooks to an HDMI display while also connecting to a standard USB device and a USB-C charging cable.
There's also a USB-C VGA Multiport Adapter that's priced at $79, which allows users to connect their MacBooks to a VGA display while also connecting to a standard USB device and a USB-C charging cable.

A USB-C to USB adapter is available for $19.
Battery Life
The third-generation MacBook features a 41.4-watt-hour battery, identical to the battery in previous generations.

The MacBook's "all-day" battery lasts for up to 10 hours of wireless web browsing and up to 12 hours of iTunes movie playback, with up to 30 days of standby time. The MacBook charges through the included USB-C cable and power adapter.
Other Features
FaceTime Camera Downgrade
Apple downgraded the FaceTime camera in the MacBook when compared to the MacBook Air and the MacBook Pro, likely due to size constraints. The MacBook has a 480p FaceTime Camera, which was not improved in the third-generation machine.
Speakers and Microphone
Above the keyboard, the MacBook has stereo speakers. It also includes dual microphones for clear audio when placing phone calls and conducting FaceTime video chats.
Connectivity
Like the MacBook Air and the MacBook Pro, the MacBook includes 802.11ac Wi-Fi and Bluetooth 4.0.
Available Models
Apple's MacBook is available in two stock configurations, with an additional 1.4GHz Core i7 build-to-order customization option available for the processor. All models can be upgraded to 16GB RAM for an additional $200.
- 1.2GHz dual-core Intel Core m3 Processor plus Intel HD Graphics 615 with 8GB of RAM and 256GB of flash storage. $1,299.
- 1.3GHz dual-core Intel Core i5 processor plus Intel HD Graphics 615 with 8GB of RAM and 512GB of flash storage. $1,599.
With the 1.4GHz upgrade, the entry-level MacBook price is $1,549. For the higher-end model, the 1.3GHz processor upgrade raises the price to $1,749. When adding in RAM upgrades, the cost of the MacBook tops out at $1,949.
How to Buy
The new 2017 MacBook can be purchased from Apple.com or within retail Apple Stores. Prices start at $1,299 for the entry-level MacBook and go up to $1,949 for the top-of-the-line machine.
For Macs made in 2009 and later, Apple offers a trade-in program in partnership with buyback company Phobio, allowing you to get up to $2,500 when trading in an eligible Mac. Trade-in via Apple is convenient, but you can often get a better price selling a Mac yourself.
What's Next for the MacBook
In May of 2017, Intel unveiled its next-generation chips designed for notebook machines. These will likely find their way into future MacBook models.
Intel says its 8th-generation chips can deliver a 30 percent performance boost over 7th-generation Kaby Lake chips. Intel made the chips available to manufacturers in August of 2017, but it's not yet clear when we will see new MacBooks with the chips.
Apple is rumored to be planning to introduce a new entry-level 13-inch MacBook in the second half of 2018, which would serve as a replacement for the MacBook Air.
Few details are rumored about the new 13-inch MacBook, which could actually belong to the 12-inch MacBook family. Apple is perhaps planning to lower the cost of that device, something it's been aiming to do for the last several years.
This rumor comes from DigiTimes and is unconfirmed as of yet, but there could be some truth to it as Apple has been phasing the MacBook Air out since the MacBook was introduced in 2015. It's not known what the rumored MacBook would be priced at, but the MacBook Air sells for $999, a price point Apple has thus far been unable to match with the 12-inch MacBook and the MacBook Pro.
Bloomberg also says Apple is planning to release a new MacBook that costs under $1,000, but it isn't clear whether it's in the MacBook Air family or a new sub-$1,000 machine in the MacBook line.
Apple has allegedly postponed production of its rumored 2018 MacBook (or MacBook Air) device until the second half of the year, which means that it will not be available at the Worldwide Developers Conference and will instead launch sometime later in the year.
According to Bloomberg, Apple is working on "at least three updated Mac models" that include custom co-processors for release as soon as 2018. Those machines include "updated laptops and a new desktop," but more specific information was not provided.
Custom co-processors are currently used in the MacBook Pro for the Touch Bar, and the iMac Pro to power the system management controller, image signal processor, SSD controller, Secure Enclave, a hardware encryption engine, and more.
It's not yet clear which machines will gain new custom co-processors in 2018, nor what those co-processors will do, but possibilities include the MacBook, MacBook Pro, iMac, Mac Pro, and Mac mini.
In the future, Apple notebooks could adopt OLED displays that will be brighter and more energy efficient for longer battery life. While Apple is exploring OLED displays, it's not likely that an OLED MacBook will come in the near future.
Best Prices