Apple Discontinues 12-Inch MacBook
Coinciding with refreshes to the MacBook Air and the entry-level 13-inch MacBook Pro today, Apple has discontinued the 12-inch MacBook, which is no longer available to purchase through its online store.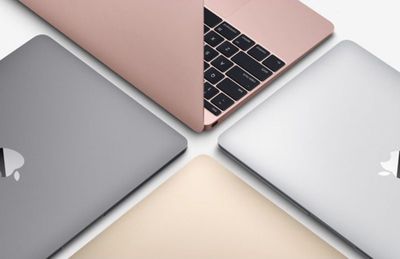 Apple had not updated the 12-inch MacBook since June 2017 and it was becoming increasingly uncertain whether the notebook had a future in Apple's product lineup, especially after the MacBook Air was redesigned last year with many of the same features as the 12-inch MacBook for $100 less at the time.
The 12-inch MacBook first launched in April 2015 and started at $1,299 prior to being discontinued. One of the 12-inch MacBook's only advantages over the 2018 ‌MacBook Air‌ was portability, as it has a smaller screen size and is nearly three quarters of a pound lighter at 2.03 pounds versus 2.75 pounds.
Apple's notebook lineup is much more straightforward now at a glance, with the lower-end ‌MacBook Air‌ starting at $1,099 after receiving a price cut today, the mid-range 13-inch MacBook Pro starting at $1,299, and the high-end 15-inch MacBook Pro for the most demanding users starting at $2,399.