Apple Now Prioritizing MacBook Keyboard Repairs With Quoted Next-Day Turnaround Time
Apple has indicated that most MacBook and MacBook Pro keyboard repairs will be required to be completed at Apple Stores until further notice, rather than being shipped to an off-site Apple repair center, according to an internal memo shared with Apple Store employees last week and obtained by MacRumors.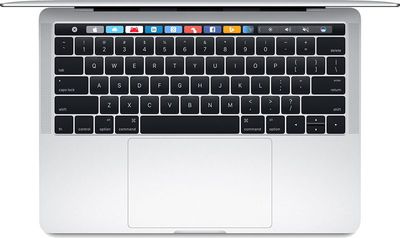 Apple's memo, titled "How to support Mac customers with keyboard-related repairs in store," advises Genius Bar technicians that these keyboard repairs should be "prioritized to provide next-day turnaround time":
Most keyboard-related repairs will be required to be completed in store until further notice. Additional service parts have been shipped to stores to support the increased volume.

These repairs should be prioritized to provide next-day turnaround time. When completing the repair, have the appropriate service guide open and carefully follow all repair steps.
Apple did not provide a reason for this change, but the company is known for customer satisfaction, so it could be trying to speed up the process a bit to alleviate frustration.
The turnaround time for MacBook and MacBook Pro repairs shipped to Apple's off-site facilities has typically ranged between three to five business days, and sometimes longer, so next-day turnaround would be much more convenient for customers if Genius Bars can actually fulfill that ambitious timeframe.
Shortly after the 2015 MacBook and 2016 MacBook Pro were released with lower-profile butterfly mechanism keyboards, complaints began to emerge about "sticky" keys causing repeating letters and other inconsistent behavior during routine use. In more severe cases, keys pop out of position or stop working altogether.


Following a few years of anecdotal complaints, and no less than three lawsuits, Apple finally initiated a worldwide service program offering free repairs of 12-inch MacBook models released between 2015 and 2017 and MacBook Pro models released in 2016 and 2017 for customers with expired warranty coverage.
That program remains in effect, but Apple has yet to extend free repairs to the still-under-warranty 2018 MacBook Pro or 2018 MacBook Air, which are still prone to keyboard issues to a lesser extent – despite both having third-generation butterfly keyboards with a silicone membrane designed to mitigate the issues.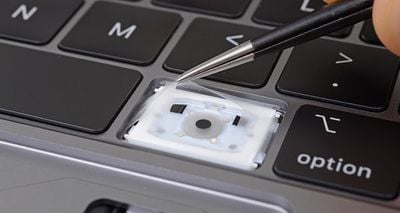 2018 MacBook Pro keyboard with silicone membrane via iFixit
The Wall Street Journal
's Joanna Stern recently brought some attention to the continued keyboard issues,
prompting Apple to apologize
:
We are aware that a small number of users are having issues with their third-generation butterfly keyboard and for that we are sorry. The vast majority of Mac notebook customers are having a positive experience with the new keyboard.
Affected customers should visit Apple's Get Support page to book an appointment with a Genius Bar or an Apple Authorized Service Provider, who are also authorized to complete free repairs under Apple's service program.