Kuo: USB-C on 2018 iPad Pro, Touch ID on 2018 MacBook, EKG and Ceramic Backs on All Apple Watch Series 4 Models, More
Apple analyst Ming-Chi Kuo has issued a new research note today, obtained by MacRumors, that outlines several predictions about Apple's upcoming products, including new iPhone, iPad Pro, Apple Watch, and MacBook models.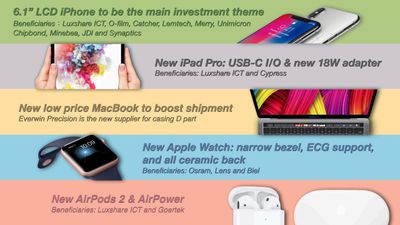 Kuo expects Apple to replace Lightning with a USB-C interface on 2018 iPad Pro models, with an 18W power adapter in the box. That sure sounds like the next iPad Pro will have a USB-C port, instead of a Lightning connector, but to play devil's advocate, there's a chance he is just referring to a USB-C charger.
In addition to Face ID support, we expect the new iPad Pro models' main upgrade to include replacing Lightning with a USB-C interface and bundling with a new unibody design 18W power adapter, which cancels the removable plug design…
Kuo adds that 2018 iPhone models will retain the Lightning connector and remain bundled with a 5W power adapter, not the widely rumored 18W power adapter with a USB-C port, which could be for 2018 iPad Pro models after all.
His research note with TF International Securities adds that Apple's widely anticipated lower-priced MacBook may replace the current 12-inch MacBook. Again, the wording is somewhat ambiguous, so it's unclear if Kuo means the 12-inch MacBook will be refreshed, or if it will be entirely replaced.
Kuo expects the new lower-priced MacBook to support Touch ID fingerprint authentication, but without a full-out Touch Bar, which remains exclusive to select 13- and 15-inch models of the 2016 and later MacBook Pro:
The new low-price MacBook may replace the position of the current 12" MacBook. We expect this new model to support the Touch ID but it will not have the Touch Bar. Everwin Precision is the main beneficiary because it is the first time this company will enter the Mac casing supply chain and its shipments account for 20% of the new MacBook model's D parts.
As far as the Apple Watch Series 4 lineup is concerned, Kuo believes all models will feature ceramic backs, whereas GPS-only Series 3 have composite backs. Kuo also believes Series 4 models will have electrocardiography (ECG/EKG) functionality.
The new Apple Watch models will have narrower bezels, support electrocardiography (ECG), and all be equipped with ceramic backs (currently, some models are equipped with composite backs). We believe the new Apple Watch models will attract more users on supporting ECG. The ECG supplier is Osram (LED design)…
Kuo also said production of the rumored 6.1-inch iPhone with an LCD has been postponed to late September to early October due to quality issues with the assembly and display, echoing a report from Mark Gurman earlier today.
Last, Kuo still expects Apple's long-awaited AirPower charging mat and new AirPods to be released by the end of the year.