Apple to Sell Low-Cost 12-Inch and 13-inch MacBooks for $700 or Less
Apple is actively developing new 12-inch and 13-inch MacBook models for sale at a planned price point of around $700 or less, claims a rumor out of Korea.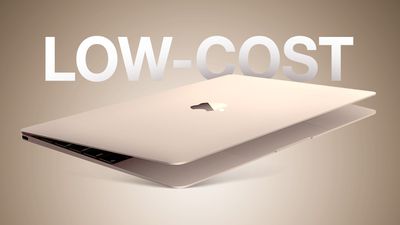 According to the operator of news aggregator account "yeux1122" on the Naver blog, supply chain sources have "consistently" seen evidence that Apple has low-cost MacBooks in two different sizes in ongoing development.
The account's sources suggest that while Apple has yet to fully commit to mass producing the low-cost Macs, they are now "more likely than ever" to make it to market because of a sharp fall in iPad and MacBook sales.
The latest rumor comes after Apple analyst Ming-Chi Kuo this week claimed that Apple is considering launching a low-cost MacBook series next year to boost ailing MacBook shipments, with a target of 8-10+ million units per year.
A DigiTimes report last month also said Apple could launch a more affordable MacBook series in late 2024 to differentiate from the company's existing MacBook Air and Pro lines, and to help the company compete with Google's popular Chromebook models.
The number of educational institutions that have adopted Chromebooks over the last few years has seen rapid growth, especially when compared to Apple's iPads, sales of which have declined in the education market.
Apple's attention is said to be increasingly focused on the sector as a possible avenue to boosting flagging MacBook sales, and is considering offering cheaper and more compact student-friendly machines to claw back its market share. Higher-performance Chromebooks can be picked up for around $700, hence the ~$700 figure Apple is targeting, according to the latest rumor.
The Naver blog account has a mixed track record for forecasting Apple's plans, but some of its claims last year proved to be significant. For example, in March 2022 it accurately revealed some details about the third-generation iPhone SE ahead of Apple launching the model. In October of the same year it also accurately predicted that Apple would delay the release of new 14-inch and 16-inch MacBook Pro models until early 2023.