iFixit has posted its teardowns of Apple's new 12-inch MacBook and 13-inch MacBook Pro with Touch Bar, revealing that apart from the advertised performance boosts the models are largely unchanged from the previous models.
The only really notable change comes in the 12-inch MacBook, which Apple has updated with a second-generation butterfly-mechanism keyboard, as found in the 2016 MacBook Pros, according to iFixit. As some readers will remember, Apple's 12-inch notebook debuted in 2015 with a redesigned keyboard that some users criticized for a lack of travel that they felt made it harder to type on.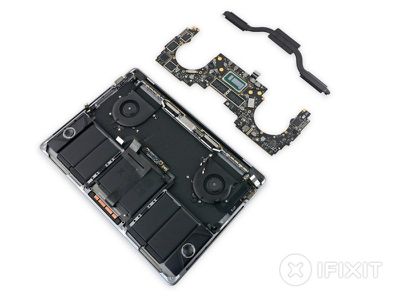 Apple used a tweaked version of the same keyboard design in its 2016 MacBook Pros, which most users felt was an improvement with "better give", and the same keyboard now adorns the latest MacBook. According to iFixit:

The keyboard trigger looks like a more classic switch this go-around. The plastic butterfly mechanism appears to have thinned out to accommodate the new switch form factor. The keystroke and travel feel about the same to us, so perhaps the real change is reinforcement for repeated use.
Overall, iFixit gave both of Apple's new notebooks a 1 out of 10 on the repairability scale, owing to their soldered-down RAM, processor, and flash storage, along with glued-down batteries. The scores are in contrast to Apple's new 4K 21.5-inch iMac, which was awarded a surprising 3 out of 10 for repairability, thanks to Apple's use of replaceable memory modules and socketed Kaby Lake CPUs.
The refreshed MacBook and MacBook Pro models feature Intel's seventh-generation Kaby Lake processors, improved Intel and AMD graphics options, with the 12-inch laptop also gaining faster SSD storage. The 12-inch MacBook costs $1,299 for the base model, while the base 13-inch Touch Bar Pro costs $1,799. The 15-inch MacBook Pro pricing begins at $2,399.