First Impressions of New 12-Inch MacBook: Ridiculously Light, but Thin Keys and Trackpad Take Getting Used To
Following today's "Spring Forward" media event, Apple allowed members of the media in attendance to get some hands-on time with the brand-new 12-inch Retina MacBook. Many sites are now sharing their first impressions of the notebook, which includes an incredibly thin design (13.1mm), a revamped trackpad, a Core M processor, silent operation thanks to the lack of a fan, an edge-to-edge keyboard, and a single USB-C port.
We've gathered up some of the initial thoughts below to give our readers an introductory look at what to expect from the new MacBook.
To begin with, TechnoBuffalo has a hands-on video of the 12-inch Macbook, which gives a good look at the various features of the device, including the edge-to-edge keyboard, the Touchpad, and the new USB-C port. It also gives us a clear picture of just how thin the new MacBook is.
Engadget's Dana Wollman
says the new MacBook at 2 pounds "makes the Air feel like a heavy old thing." Wollman was initially skeptical of the new keyboard, which has keys with less travel, but ultimately found that the keys are "still springy."
Though the buttons are indeed flat, and though they aren't cushy, they are still springy. They pop back up when I hit them. That means I can type at a gingerly pace and know that for the most part, I won't miss a key, and that most of my button presses will register. If this were another machine, I might unconsciously start mashing the buttons, just to make sure I don't have to go back and re-type anything. I was prepared to do that here, but quickly felt my hands relax once I realized they didn't actually need to work that hard. Again, though, there could still be a learning curve for those of you upgrading from an older MacBook.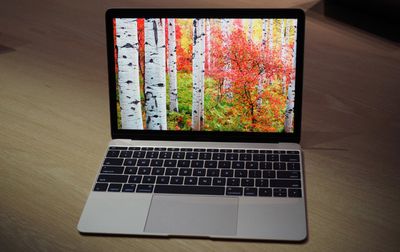 The Verge's Dieter Bohn
says the new MacBook is "ridiculously thin and so light" that he didn't believe it when he picked it up. He was impressed with the "insanely thin" 2304 x 1440 display. The trackpad, he says, is accurate, but Force Click is "far from intuitive" and that it will take him some time to get used to it.
You press down hard and keep pressing through the click, as though you were karate chopping with you finger and trying to hit a target behind the trackpad. Do that and you'll feel a subtle second click happen, and ta-da you've activated force click. For the company that famously refused to put more than one button on the mouse, putting an extra interaction like this on the trackpad seems weird.
Gizmodo's Sean Hollister was also impressed with the lightness of the new MacBook, writing "it felt like I was holding nothing at all. It's so light," but he went on to say that the notebook is "not completely lovable" due to the MacBook's keys, which are too thin. The screen, though, is "gorgeous" and he loved the new Force Touch trackpad.
Apple's new Force Touch pad sounded a little bit gimmicky during the announcement... but I love it. I love it so much. Not because it's easy to press like the laptop buttons of yesteryear--it's not--but because it's so smart. Forget copy and pasting text when you want to look up an address or add events to a calendar: Mac OS is now smart enough to do those things automatically the moment you push down on the trackpad.

You just physically push down harder--the sensitivity's adjustable--to take an action on what looks like plain text on the web or even in a text document, and boom, you're getting shit done.

SlashGear's Chris Burns
calls the display "incredible" with huge viewing angles and crisp, clean details. Burns highlights the single USB-C port on the MacBook, which is the only port on the device. It handles all necessary functions like charging and USB input. He also points out that the FaceTime camera on the MacBook is only 480p, lower quality than Apple's other notebooks.

Wired's David Pierce
says the MacBook is "amazingly sturdy" for being so thin, and its screen is "lovely."
Everything about the MacBook is about beauty, whether it's the single USB-C port on the left side--the only port on the entire device save for a headphone jack on the right--or the new Gold, Space Gray, and Silver colors. The Gold is actually much more handsome than gaudy, but the Space Gray is my favorite of the options. It's dark and sleek, fitting for a device that's so, so very thin.
Like the other reviewers, Pierce was not impressed with the MacBook's keys, which he says he "immediately hated." The MacBook, he says, runs "quite well" for a device that uses an ultra low power Core M processor.
Apple's new MacBook will be available for purchase beginning on April 10. The 256GB base model with a 1.1GHz Core M processor and 8GB of RAM is priced at $1,299, while the upgraded model with a 1.2GHz Core M processor, 512GB of storage, and 8GB of RAM is priced at $1,599.