Intel Announces 8th-Generation Whiskey Lake and Amber Lake Processors Suitable for MacBook and MacBook Air
Intel this afternoon officially debuted its new eighth-generation U-series "Whiskey Lake" and Y-series "Amber Lake" chips, which are designed for use in thin, light notebooks like the MacBook and the MacBook Air.
The new "Amber Lake" Y-series processors, which include the i7-8500Y, i5-8200Y, and the m3-8100Y, are successors to the current chips that Apple uses in the 12-inch MacBook lineup. Apple is working on updated 12-inch MacBook models set to come out this fall that could use the new Amber Lake processors.
Intel's new 15W U-series "Whiskey Lake" chips, which include the i7-8565U, i5-8265U, and i3-8145U, would be appropriate for a refreshed MacBook Air, and rumors have suggested that such a machine is perhaps in the works.
While details haven't been entirely clear, Apple is working on a followup to the MacBook Air that features a 13-inch Retina display, and if this machine uses chips similar to the chips that MacBook Air models have used for years, the new Whiskey Lake chips are suitable.
According to Intel, its new Whiskey Lake and Amber Lake chips "raise the bar for connectivity, performance, entertainment, and productivity." The U-series chips introduce support for integrated Gigabit Wi-Fi for up to 12-times faster connectivity speeds, support for USB 3.1 Gen 2 transfer speeds, and built-in support for voice services like Alexa and Cortana.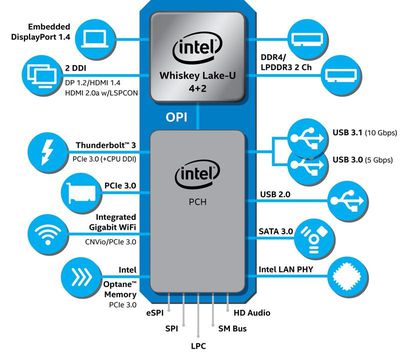 Intel says that compared to a 5-year-old PC, the new U-series processors offer two times better performance and double-digit gains in office productivity for everyday web browsing and content creation over previous-generation chips.
The high-end Intel Core i7 8565U processor enables Intel Thermal Velocity Boost for additional single core performance, while all the U-series chips offer 16 PCIe lanes, up from 12.
Using these new chips, 2 in 1 machines can last up to 16 hours on a single charge, while power optimized systems can last as long as 19 hours. Intel says "many systems" using the U-series chips will offer over 10 hours of battery life.
Intel's Y-series chips offer faster Wi-Fi and LTE capabilities and double-digit gains in performance compared to the previous-generation, enabling new, compact notebook designs with better battery life. The chips offer Gen 3 PCIe support for higher data transfer rates, along with NVMe PCIe x4 solid state drives.
Both the new Y-series and U-series chips are considered 8th-Generation, a designation that also includes Intel's previously-announced Kaby Lake Refresh processors.
Intel says that laptops and 2 in 1s powered by the new chips will be available starting this fall.