Cyber Monday
The best Apple Deals available on Cyber Monday.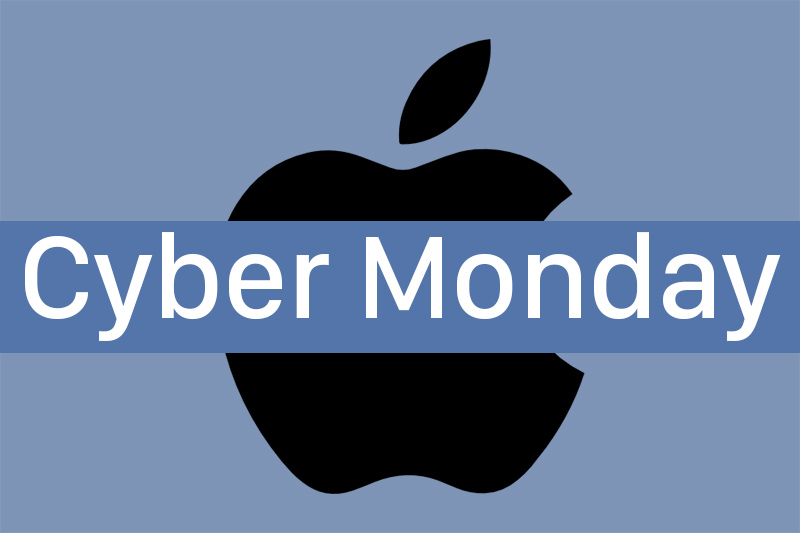 Cyber Monday
Cyber Monday is the traditional kickoff to the holiday shopping season, falling on the Monday after Thanksgiving and Black Friday in the United States. Many online retailers offer steep discounts on popular items in order to attract customers, and Apple products are often included in these sales.
Kickoff
Cyber Monday falls on November 27 in 2017
Deals may be limited, so customers are advised to shop early
Cyber Monday 2017
Cyber Monday, which takes place on November 27th in 2017, is a major shopping holiday in the United States. It follows Black Friday, and marks another day of major sales both online and in retail stores. Retailers across the country drop prices on thousands of items on Cyber Monday, and in some cases, the sales last for an entire week.
Apple products on the cheap are highly desired, and in recent years, retailers have offered some fantastic deals both on Black Friday and on Cyber Monday. We're gathering up a list of all the retailers, both online and in-store, offering discounts on iPhones, iPads, iPods, MacBooks, Beats headphones, Apple accessories, software, and more.

Our Black Friday deals can be found in our dedicated Black Friday roundup, while this Cyber Monday roundup focuses on deals that will be available starting on November 27. Black Friday's focus is often in-store sales, while Cyber Monday primarily highlights deals you can get online without leaving the house.
This roundup will be updated on a daily basis as Cyber Monday approaches. We'll highlight the very best deals that are being offered so MacRumors readers know where to go for the best discounts. If you spot a good deal or have a site offering a Cyber Monday discount, make sure to send us an email at tips@macrumors.com.
Best Cyber Monday Deals
Best Buy
Best Buy's Cyber Monday discounts began with early access yesterday for My Best Buy members, and now the deals have expanded to everyone. The retailer is offering free shipping on nearly everything, and a few deals will be extending throughout the week for its "Cyber Week Deals" event.

13-inch MacBook Pro (Mid 2017)
15-inch MacBook Pro (Mid 2017)
Other Products and Accessories
Amazon
Amazon's selection of sales is focused on its own line of Alexa products, but it does have a few HomeKit-enabled devices and other accessories Apple fans might be interested in. Head to Amazon's Cyber Monday headquarters to keep an eye on the deals, which will also include more than 30 Deals of the Day and thousands of Lightning Deals across numerous product categories over the course of Monday.

A few of Amazon's sales are listed below, and the full list is available in the company's Cyber Monday press release.
B&H Photo
B&H Photo has opened up discounts on a wide range of Apple products for Cyber Monday, as well as highlighted ongoing notable sales like its $1,000 discount on the Late 2013 Mac Pro. B&H also has some of the biggest Cyber Monday discounts on Macs today, including $1,000 off a high-end 2016 15-inch MacBook Pro with Touch Bar. Check out some of the best deals in the list below and head to B&H to browse the rest.
15-inch MacBook Pro (Late 2016)

iMac (Mid 2017)
Mac Pro (Late 2013)
iPad (2017)
Other Deals
Adorama
Adorama's Cyber Monday deals include some of the latest MacBook Pro and iPad Pro models, the late 2015 27-inch iMac, and a few other sales on drones, printers, scanners, and more.

13-inch Macbook Pro with Touch Bar (Mid 2017)
15-inch MacBook Pro with Touch Bar (Mid 2017)
27-inch iMac (Late 2015)
10.5-inch iPad Pro (Mid 2017)
MacMall
MacMall has a few Cyber Monday deals on select Mac and iPad models that are comparable to discounts available from other Apple authorized resellers.

15-inch MacBook Pro (2017)
iPad Pro (2017)
Other Deals
Twelve South
Popular Apple accessory maker Twelve South has begun its Cyber Monday deals with MacBook and iMac accessories on sale for up to 50 percent off until tonight at 11:59 p.m. ET. In total, 17 products are on sale today, which you can find in the list below. For more information on Twelve South's "Cyber Mac Monday" deals, head over to the company's website.

T-Mobile

T-Mobile has an offer for new customers considering a move to its cellular plans. If you buy a 32GB 9.7-inch iPad with a T-Mobile ONE plan, then activate a T-Mobile ONE voice line on a new or existing cell phone (which you can carry over from a different carrier and keep your number), you'll get a full rebate for the iPad. The rebate will come in the form of a $460 Prepaid MasterCard Card, which will arrive in the mail within six to eight weeks.
eBay
eBay has a few sales today on select products in its tech storefront, including some notable markdowns on MacBook Air and iMac. There are plenty of other offers to check out for eBay's Cyber Monday sale, with deeper discounts hitting refurbished or used items, so be sure to check out the site for more information.
Other Cyber Monday Deals
Shopping Tips
Sales Tax
National retailers like Apple and Best Buy charge local sales tax on all orders, so when making an online order, it is best to consider all sales tax options. Ordering from smaller online retailers can be a benefit, as not all stores charge sales tax in all states. Customers in states where retailers do not collect sales tax may, however, be required to pay a calculated or estimated "use tax" on out-of-state purchases as part of their income tax filings.
Local sales taxes are automatically charged for online orders from the following retailers in the following states:
- Apple, Amazon, Best Buy, Walmart, Sam's Club, Target: All States
States with no sales tax: Alaska, Montana, New Hampshire, Delaware, and Oregon.
Affiliate Disclosure
MacRumors is an affiliate partner with some of these vendors, and our Black Friday roundup contains some affiliate links. When you click on one of these links and purchase one of these products, we may receive a small amount of money in return, which helps us keep the site running.