Last month, B&O PLAY announced the Beoplay A1, the latest portable Bluetooth speaker in its family of luxury home audio products. B&O PLAY is a brand subsidiary of Danish high-end audio and video manufacturer Bang & Olufsen, known for its principled attention to design (which some say inspired Apple).
We decided to take a look at the A1 ultraportable speaker to see if the device justifies its $249 price tag, which places it at the premium end of the Bluetooth speaker market.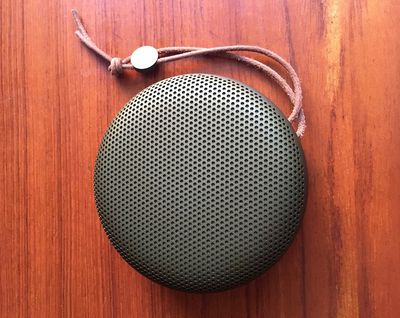 Design
Taking the A1 out of the box, the first thing that strikes you is the compactness of the unit relative to its weight. At about 1.3 pounds (600 grams), it's not the lightest ultraportable speaker by any means, but its beautifully minimalist 'hockey puck' design feels disarmingly slight, partly thanks to designer Cecilie Manz's decision to embed the power, volume, play/pause, and pairing controls around the rim, with the attached leather strap adding a touch of surfer appeal.
The polymer base has a suede-like finish that ensures the 2-inch (51 mm) tall A1 sits happily on most surfaces, and its 5-inch (133 mm) diameter means it's possible to grasp the grilled dome from above and pick up with one hand. The unit sits snugly in the larger pockets of a raincoat, but trying to fit it in a light jacket pocket may present more of a challenge.




A tiny pinhole on the rim of the A1 designates the speaker's microphone, used for conference calling when the device is connected to a cellphone. There's also a 3.5 mm mini jack port and a USB Type-C charging port, with a Type-C to Type-A charging cable included in the box.
The A1's solid aluminum casing certainly feels like it could take a few knocks, but its smooth finish is bound to attract scuffing and dents if you bash it about or throw it in a backpack with other hard objects.
"Every scratch tells a story", reads the B&O PLAY website, in a valiant attempt to market inevitable imperfection as a product feature. But many customers will take pride in looking after premium gear they've paid top dollar for, so the lack of a protective pouch at this price point is a disappointing omission.
Powering on the unit and holding the pair button saw it show up instantly in both iOS and OS X Bluetooth screens. The connection was made without a hitch, and didn't drop out as long as the speaker remained within a reasonable range. There's also a convenient button on the unit indicated by a circle icon that reconnects the speaker to the last paired device.


The Beoplay iOS app is a free download that works with all of the company's speakers and can be used to upgrade their firmware. You can also use it to pair two A1 speakers with each other and enjoy true stereo separation, but there's no facility to connect the units to a larger multi-room setup.
In addition, the app lets you play with a handful of 'Tonetouch' EQ presets designed for the A1, or you can manually adjust the EQ using a graphical pad divided into concentric quadrants, titled 'Warm', 'Bright', 'Excited', and 'Relaxed'. They do make an audible difference, but in the end I left the EQ in the neutral position, preferring the A1's default sound signature.

Sound Quality
Placed on a desk or even on the floor, the A1 disperses sound in all directions with surprising confidence and ease. Its wide angle of projection is actually slightly disorienting at first, and had more than one person entering the room wondering where the speaker was hidden even though it was sat in plain view.


The A1's 3.5-inch aluminum driver and 0.75-inch tweeter (powered by two 30-watt class D amps) effortlessly reproduced Jim Morrison's baritone wail and Krieger's expansive freeway riffs throughout The Doors' L.A. Woman, while a few tracks from Django Django's eponymous album soon had the coffee table rattling with a clarity and detail I've not heard before in a speaker of this size.
Switching to some dub techno and dialing up the internal amp to peak power (2x140 watts) using the A1's onboard controls, easily overrode the source device's maximum output, but it was almost impossible to induce distortion at high volume, thanks to the responsiveness of B&O's proprietary digital signal processing.
That inevitably puts a limit on the output of the A1, and it's not the loudest Bluetooth speaker on the block, but it can easily exceed comfortable listening levels in a medium-sized living room, and it does sound consistently lovely, especially in the midrange.
Achieving decent audio separation at this scale is no easy feat, but the A1 dealt with jazz and classical genres with considerable aplomb, with only a handful of deep double bass notes going missing in instrumental tracks from time to time, which is totally forgivable for a unit of this size and frequency response (60-24,000Hz).


I took the A1 out to the garden during a family barbecue and its detailed sound remained just as confident, carrying especially well when hung from a nearby wall via its leather strap, giving it great projection across the lawn.
I used the A1 at average volume each afternoon over the course of a week, testing it in a variety of scenarios – in the kitchen (it's dust and splash resistant), in the park, placed on a desk in a meeting room – with the unit drawing admirers on several occasions.
On the fifth day of use the unit's LED light flashed to indicate the battery was approaching its last 10 percent of power. It still lasted the rest of the afternoon though, and when I charged it via the supplied cable, the A1's 2,200mAh battery reached full capacity in under 100 minutes. Given what I'd put it through, the advertised "up to 24 hours" charge didn't seem all that far fetched.

Bottom Line
Overall, the A1 is an extremely impressive-sounding Bluetooth speaker with looks to match. Its thoughtful, stylish design easily places it above speakers like the cheaper UE Boom 2, but its audio output is equally attention-grabbing, and beats its most likely premium rival, Bose's popular SoundLink Mini II.
Achieving bass-rich clarity and sonic detail from such a small unit is a remarkable achievement, and coupled with its balanced dispersion and decent battery life, the Beoplay A1 really does live up to the tired old adage that you get what you pay for.
Pros
Compact and stylish premium-grade design
Rich, balanced sound and excellent dispersion
Impressive battery life at medium volumes
Fast charging time
Cons
Not the loudest Bluetooth speaker
Splash-proof, not waterproof
No carry pouch supplied in the box
Pretty expensive for an ultraportable

How to Buy
The Beoplay A1 costs $249, is available in mossy green or silver ('natural'), and can be ordered on the B&O PLAY website.
Note: B&O PLAY provided the A1 speaker to MacRumors free of charge for the purposes of this review. No other compensation was received.