Back in mid-September, Logitech's Ultimate Ears brand rolled out the UE Boom 2, an upgraded version of its popular mid-level Bluetooth portable speaker. With Apple adding the new speaker to its online store and retail locations a few weeks ago, we decided to take a look at the new and improved speaker.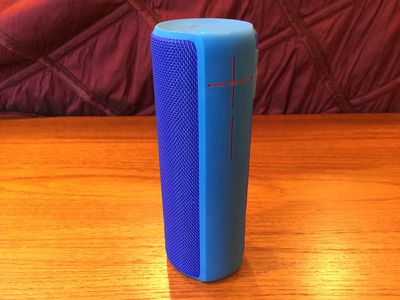 Priced at $200, the UE Boom 2 isn't the cheapest Bluetooth speaker on the market, but its feature set will be appealing to many. The rugged, waterproof design is extremely portable, puts out a lot of sound, and keeps things simple for those who want to just toss a speaker in a bag and go. It's roughly the size of a water bottle, so you can also easily put it in a cup holder or water bottle holder when you're out and about.
Aside from the speaker grille wrapping nearly entirely around the cylindrical body of the UE Boom 2, the dominating feature of the device is its pair of oversized buttons along a rubber strip on the side that make it easy to adjust the volume with a quick grab.

Smaller buttons on the top of the speaker handle power and syncing, while the bottom includes a 3.5mm audio-in jack and a microUSB port for charging, both with flaps to keep water out. A small fold-down ring on the bottom lets you hang the UE Boom 2 up or clip it to a bag, and unscrewing the ring reveals a standard tripod mount.


Compared to the original UE Boom, the Boom 2 includes a number of improvements such as a 25 percent increase in volume output to 90 decibels and a doubled 100-foot wireless range, both of which are welcome improvements for those looking to roam a little further from their speaker during a day at the beach or park or out in the yard.
The UE Boom 2 is shock-resistant, with Ultimate Ears calling it "drop-proof" to a height of five feet, and it did indeed survive several drop tests onto various surfaces from heights approaching that stated limits. A new IPX7-rated waterproof design also protects against immersion in water up to one-meter deep for up to 30 minutes. While I didn't push the full limits for water resistance, I did fully immerse it for several minutes with no ill effects and took it in the shower where it held up fine to copious amounts of splashing while sitting on the shower floor.
Also new in the UE Boom 2 is an accelerometer that lets you perform basic controls just by tapping the device. Picking up the UE Boom 2 and tapping the top of it once will play or pause music, while a double-tap skips to the next song.
The UE Boom 2 offers up to 15 hours of battery life, with an included adapter and microUSB cable making it easy to recharge.


As with most Bluetooth devices, setup is easy and requires simply pressing the small sync button on the top of the speaker to enter pairing mode, and then heading to the Bluetooth section of the Settings app on your iOS device, finding the speaker, and pairing with it. Once paired, you can easily change between your device's internal speaker and the UE Boom 2 through the AirPlay menu in Control Center on your iOS device.
Another handy feature of the UE Boom 2 and other Ultimate Ears speakers is Double Up mode, which lets you synchronize two UE speakers (including the original Boom, the Megaboom, and the Roll) for even more sound. A "Double Up Lock" mode allows you to have your speakers automatically enter Double Up mode when they are turned on together.


Ultimate Ears has a handy UE Boom app [Direct Link] for iOS and Android that makes it easy to manage the Boom 2 for such tasks as walking through the setup for Double Up, managing custom and preset equalizer settings, monitoring battery level, setting alarms, and applying software updates that allow Ultimate Ears to add new features over time.


One of those features recently added with a software update is a Block Party mode that lets up to three people connect to the speaker simultaneously and take turns playing music. The Block Party is managed by one host who then has the ability to manage the members of the party, changing which device is currently playing to the speaker, adjusting volume, and even kicking out other devices to let new users join.


Overall, the UE Boom 2 is an excellent Bluetooth speaker with a rugged design that can stand up to day-to-day abuse. Its $200 price tag puts it well above many other options on the market, including Ultimate Ears' own well-regarded UE Roll at half the price, which may give some potential customers pause. But the long battery life, strong wireless range, and nearly 360-degree sound combined with water, dust, and drop resistance make it worthy of consideration for those looking for a durable speaker for use on the go.


The UE Boom 2 speaker is priced at $199.99 through Ultimate Ears and is available in six colors: Cherrybomb (red), Tropical (orange), Yeti (white), Phantom (black), GreenMachine (green), and BrainFreeze (blue). Apple carries the blue and black options both in stores and online at essentially the same price point.