In iOS 17, Siri has learned a few more useful features worth knowing about. One is the ability to use Siri to send messages to friends and family over compatible third-party apps. Keep reading to learn how it's done.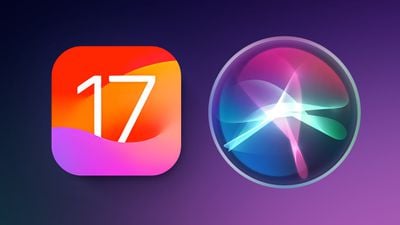 When you ask ‌Siri‌ to send a message in iOS 17, you can now tap to select which app on your iPhone that you want to send it from. This allows you to send messages not just from Apple's built-in Messages app, but also third-party apps like Telegram and WhatsApp.
The feature is compatible with any third-party app whose settings include the "Use with Ask ‌Siri‌" option. To check if an app has the option, or to enable/disable it, follow these steps.
Open the Settings app on your iPhone.
Tap Siri & Search.
Scroll down to the apps list and tap the app in question.
Toggle the switch next to Use with Ask Siri.

If "Use with Ask Siri" is enabled for a particular app, you can manually choose it each time you ask the voice assistant to send a message. Here's how.
Activate Siri by saying "Hey Siri" or just "Siri," or by pressing and holding the Side button on your iPhone until the Siri orb appears on the screen.
Ask Siri to send a message to one of your contacts.
In the message card that appears at the top of the screen, tap the Messages icon next to the person's name.
Tap another compatible messaging app in the dropdown to select it.
Type your message in the input field, then tap Send.

There's nothing more to it. ‌In iOS 17, Siri‌ is also able to recognize and respond to multiple back-to-back requests without needing to be reactivated.
You can, for example, ask ‌Siri‌ to tell you the time, and then follow that up with a request to text your friend that you're going to be late all in the same ‌Siri‌ request. For more details on what's new for Siri in iOS 17, check out our dedicated guide.