The new Retina iMac, also known as the
iMac with 5K Retina display
, came
at a time
when the iMac line needed an infusion of something new, something dramatic -- after all, it's difficult to get really excited about another speed bump. The last time Apple made a major change in the iMac was in late 2012, and that was when Apple shrank the iMac to 5mm at the edge, a change that was nice, but a thinner iMac wasn't on most people's wish list.
The Retina iMac is the change in the iMac lineup we've all been waiting for, but it's not quite the computer for everyone -- yet. This buyer's guide, and the video below, take a look at what needs to be considered when deciding to buy the Retina iMac.
What is the iMac with 5K Retina display?
The Retina iMac looks like your typical iMac from the outside. The key difference is the screen; you'll notice that it shows amazing detail, and images look crisper and cleaner on the Retina iMac than on a standard iMac.
Apple calls a display "Retina" when a user, at a typical usage distance, can't discern the individual pixels on the screen. The Retina iMac achieves this with a 5120-by-2880 pixel resolution. A standard 27-inch iMac has a resolution of 2560-by-1440. That's a lot more pixels (four times, to be exact) on the Retina iMac.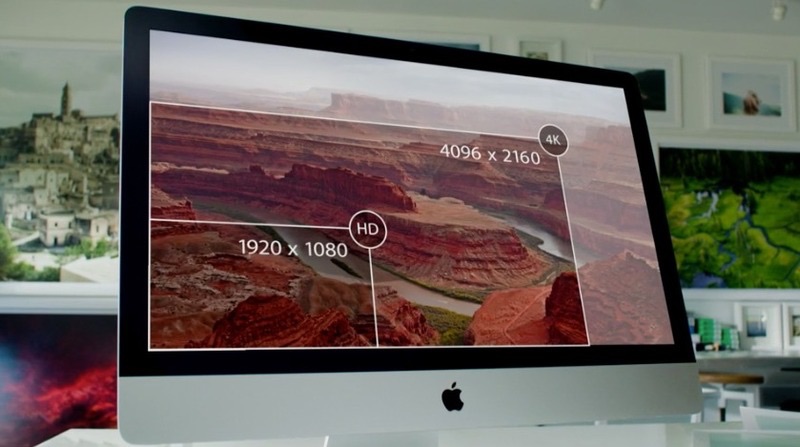 Screen resolutions compared with the Retina iMac
If you're still trying to wrap your head around the enormity of the Retina iMac's resolution, Apple provides a
sample 5K image
that you can look at on your Mac. The Retina iMac can show this complete image on its display.
In order for the iMac to handle so many pixels, Apple had to
create
a new timing controller. It's currently found only in the Retina iMac -- the
Mac Pro
doesn't even have the graphics capability to handle 5K resolution (yet).
Who is the 5K iMac for?
The Retina iMac is $2499, out of the price range for many consumers. For most users, a 5K display is a luxury, not a necessity to be productive.
Content producers will benefit the most from a 5K display. There's enough screen resolution for video editors working with 4K content to show video at actual size and still have room for app menus in the editing app. Photographers who work with large files will also benefit from the display, and designers will have the space to create and modify projects.
That being said, if you have the money, there's nothing stopping you from buying a Retina iMac. Who wouldn't want a display capable of such gorgeous graphics? And with so many pixels, you can fit more windows on the screen, so you many not need a second display.
It's undoubtedly only a matter of time before Apple outfits the whole iMac line with Retina displays. Apple will eventually figure out how to reduce the costs to make such machines. Waiting to see if a more affordable Retina iMac is released isn't a bad idea, especially if your current machine still meets your performance needs.
Specifications
The Retina iMac is not just the high-end iMac with a better display. The specs between the standard configuration $1999 iMac and the $2499 5K iMac are different in three major areas (besides the display).
At the heart of the Retina iMac is a 3.5GHz quad-core Intel Core i5 with Turbo Boost up to 3.9GHz. That's slightly faster than the 3.4GHz quad-core Intel Core i5 with Turbo Boost up to 3.8GHz found in the $1999 iMac. For $250, you can customize the Retina iMac with a faster, 4GHz quad-core Intel Core i7 with Turbo Boost up to 4.4GHz.
Another major difference is the graphics card. The standard $1999 iMac has a 2GB Nvidia GeForce GTX 775M, while the Retina iMac has a 2GB AMD Radeon R9 M290X (and don't forget the special timing controller). You can upgrade the graphics card in the Retina iMac to a 4GB AMD Radeon R9 M295X for $250.
The final major difference is the storage device. The older 27-inch $1999 iMac comes with 1TB hard drive standard, while the Retina iMac has a faster 1TB Fusion Drive. Apple offers Fusion Drive and flash storage upgrades for an additional fee.
All iMacs include 8GB of memory. The 27-inch iMacs, including the Retina model, allow the user to upgrade the memory. Apple supplies the 8GB as a pair of 4GB RAM modules, so you can add a couple of modules if you'd like later on after your purchase.

All iMacs include the following:
Four USB 3 ports
Two Thunderbolt ports (Thunderbolt 2 for Retina iMac)
Ethernet port
SDXC card slot
Headphone jack
Mac Pro vs. 5K iMac
Apple's quad-core Mac Pro is $2,999 without a display. 5K displays aren't in wide distribution yet; the only ones you'll find are Apple's iMac and Dell's $2,500
UltraSharp 27 Ultra HD 5K Monitor
, which you can't use with the current Mac Pro. More 5K displays are coming (and it's possible Apple will update the Mac Pro so it can drive a 5K display), but you can consider a 4K display, which range in price from $700 to $3,000. The Retina iMac doesn't support target display mode, so you can't get one, connect it to your Mac Pro, and use it as an external display.
A 5K display or a quality 4K display can cost as much or more than a standard configuration $2,499 Retina iMac, so it's tempting to get the Retina iMac instead of the low-end quad-core Mac Pro.
Outside of price, there are software instances where you're better off with a Retina iMac. If your daily usage involves productivity apps, Internet access, and even iLife apps, the Retina iMac is a better choice. It outperforms the quad-core Mac Pro (and even the six- and eight-core models) in single-core performance, according to
GeekBench 3
benchmark results.
A Mac Pro is the better choice if you use pro apps like Final Cut Pro, Logic Pro, and Photoshop. These apps are designed to use multiple processing cores, and the Mac Pro excels in multi-core performance, according to GeekBench 3. The higher-end Retina iMac with a 4.0GHz processor does outperform the 4-core Mac Pro, however.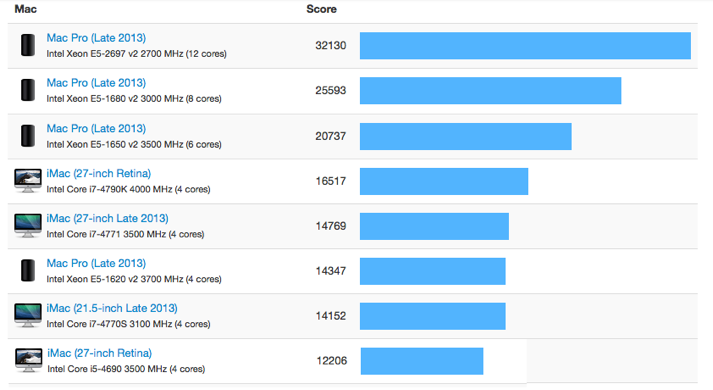 Many pro apps still need to be optimized for the Retina iMac, so keep that in mind. Retina iMac owners have found that UI elements may have some performance issues. For example, in his review of the Retina iMac,
Jason Snell
found that Logic Pro X had issues when scrolling through a timeline, but this has since been fixed in an update.
Should you buy a 5K iMac?
The Retina iMac offers top-notch performance with the best display Apple has ever made. If you own an iMac that's more that four years old and you've been holding out for a game-changing upgrade, the Retina iMac fits the bill.
If you've bought an iMac within the past three years, you're probably happy with the performance of your current machine. The Retina display is more of a luxury, unless you often use pro app -- then you'll be able to take advantage of the high resolution.
The Retina iMac is really targeted at pro users who are working in different forms of media and use apps that take advantage of multiple processing cores. Editors of high-resolution video will benefit from the Retina display, and even if you're working in audio or lower-resolution video for the web, you may not need to rely on a second display as much as you do now -- the Retina display gives you plenty of space to do your work.