iPhone 15 USB-C Cables Again Said to Be Limited to USB 2.0 Transfer Speeds
All iPhone 15 models this year are expected to adopt USB-C ports for the first time, and while USB-C has several advantages over Lightning, another rumor today suggests that Apple's standard iPhone 15 and iPhone 15 Plus models are unlikely to enjoy any increase in data transfer speeds following the transition.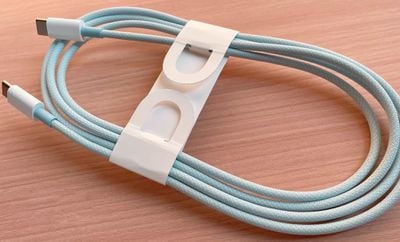 According to leaker Majin Bu, who has previously shared details about Apple's new cables, the USB-C cables supplied in iPhone 15 boxes are indeed limited to USB 2.0 data transfer speeds at a rate of 480 MBps, which is the same as Lightning.
In contrast, rumors converge on both iPhone 15 Pro models supporting higher USB-C transfer speeds. According to Apple analyst Ming-Chi Kuo, the iPhone 15 Pro models will support "at least" USB 3.2 or Thunderbolt 3. For comparison, the iPad Pro features a Thunderbolt port for transfer speeds up to 40 Gbps, while the entry-level iPad's USB-C port is limited to just 480 Mbps.
With the higher-specification data transfer speed, iPhone 15 Pro models will therefore be able to transfer video and other file types much more quickly than the iPhone 15 and iPhone 15 Plus.
Each iPhone 15 will include a braided USB-C charging cable in the box that is thicker (i.e. more durable) and 50% longer than the Lightning cable that comes with current iPhone models,
according to reports
. The cables are also rumored to be
color-matched
to possible
new iPhone colors
, coming in at least black, white, yellow, blue, and orange.