iPhone 15's Braided USB-C Cable Could Be 50% Longer
The iPhone 15 lineup could come with a braided USB-C charging cable that is 50% longer than the Lightning cable that comes with current iPhone models, according to new reports.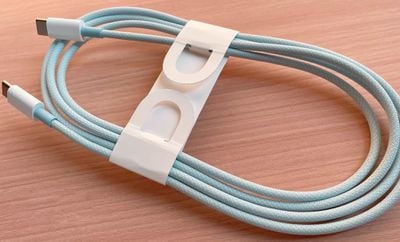 The length of the cables seen in recent reporting led some to speculate that they would be too long for an ‌iPhone‌, but the latest information suggests that Apple plans to offer a substantially longer charging cable with the ‌iPhone‌ for the first time.
Apple device collector "Kosutami," who has revealed most of the details about the color-matched and braided USB-C to USB-C cables allegedly accompanying the ‌iPhone 15‌ models, now says that the cable is 1.5m in length. The rumor was also shared by "Majin Bu," who added that the new cables should be much more durable. The longer cable will presumably necessitate redesigned packaging.
The Lightning cable packed with current ‌iPhone‌ models is rubberized, white, and just one meter in length. The new braided cables are expected to come in black, white, yellow, blue, and orange, at minimum, mirroring a new selection of color options for the ‌iPhone 15‌ series.