iPhone 15 Could Come With Color-Matched Braided USB-C Cables [Updated]
The iPhone 15 and ‌iPhone 15‌ Plus could come with color-matched braided USB-C to USB-C cables, according to a rumor coming out of Asia.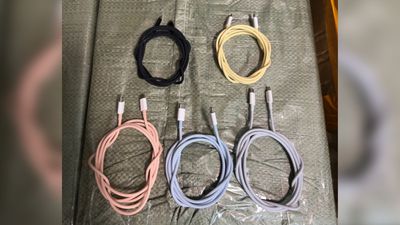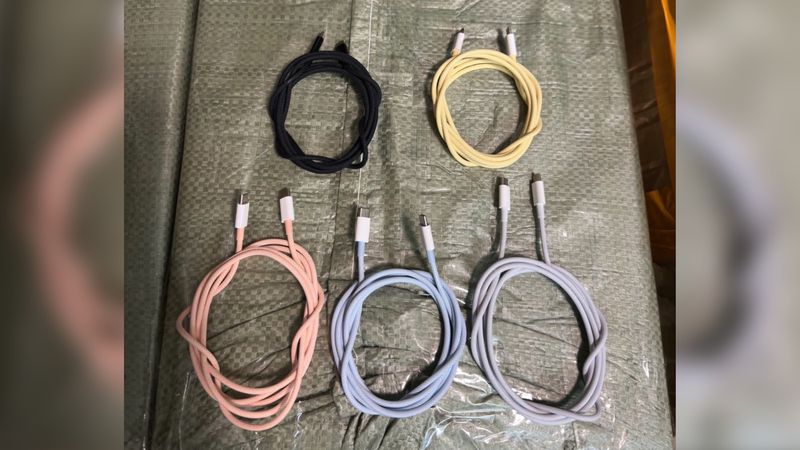 Twitter user "Majin Bu" first shared the information over the weekend, but was unable to verify the source of the rumor circulating on Chinese social media. Now, Apple device prototype collector "Kosutami" has affirmed that they have seen design validation test (DVT) samples of the color-matched braided USB-C cables and they are apparently destined to come alongside the ‌iPhone 15‌ and ‌iPhone 15‌ Plus.
With the exception of the black version, each of the cables has a glossy white plastic shell at either end. Unlike the Apple Watch magnetic charging cable and MagSafe 3, the braided USB-C cables feature strain relief tubes.
Kosutami told MacRumors that they are anticipating that these cables will at least come in white, black, yellow, purple, and orange color options. It seems that this orange shade will be closer to a pink, perhaps like the iPhone XR's Coral color option. Each of these cable colors should match up with a corresponding ‌iPhone 15‌ color option. A single rumor from February suggested that the ‌iPhone 15‌ will be available in Pink and Blue, but it is otherwise unknown what specific color options the new devices could come in.
To date, all ‌iPhone‌ models have come with a white cable featuring a white rubber jacket, regardless of the color option chosen for the device itself. Apple has gradually been moving to braided cables across most of its devices, and all MacBook Air and MacBook Pro models with ‌MagSafe‌ 3 come with a color-matched braided cable, so doing the same for the ‌iPhone‌ seems plausible amid its transition to USB-C.
Update: The iPhone 15 Pro and ‌iPhone 15 Pro‌ Max will also apparently come with color-matched braided USB-C to USB-C cables, MacRumors has been told.