Next-Generation MacBook Air Could Focus on a Single Major Upgrade
Following a significant update in 2022, it is not immediately clear what features Apple could have in store for the next-generation MacBook Air – but according to rumors so far, the company could focus on a single major hardware introduction for the popular product line this year.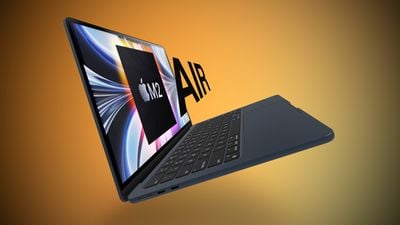 Apple introduced a radically redesigned 13-inch ‌MacBook Air‌ model last year featuring a Liquid Retina display, the M2 chip, 1080p camera, four-speaker sound system, MagSafe charging, and more. This year, rather than offering a further specification upgrade, reports indicate that Apple first plans to launch a new ‌MacBook Air‌ model with a 15.5-inch display.
This would be positioned above the current, 13.6-inch ‌MacBook Air‌, which starts at $1,199, but below the 14.2-inch MacBook Pro, which starts at $1,999. A price in the region of $1,399 to $1,799 therefore seems likely.
The 15-inch ‌MacBook Air‌ will contain the M2 chip, according to Apple analyst Ming-Chi Kuo, making it identical to the 13-inch ‌MacBook Air‌ in terms of specifications. Due to its size, the larger model may still have some advantages in terms of battery capacity and speaker fidelity.
The machine has been rumored to launch in spring 2023 for some time, and the latest reports have suggested an approximate April launch date, but the risk of a delay until later in the year remains.
The new 15-inch model is the focus of next-generation ‌MacBook Air‌ rumors at the current time, but further in the future, Apple is expected to bring the M3 chip to the product line. The ‌M2‌ chip is only a modest upgrade over the M1, so after a focus on fundamental hardware features throughout 2022 and 2023, the following ‌MacBook Air‌ upgrade may be more likely to offer a transformative chip upgrade.